User-oriented giveaway from Leawo Software returns again, with top selling Blu-ray Creator as the real boon for both Win and Mac users. On August 26, 2012, Blu-ray Creator Giveaway will be available on giveawayoftheday.com. And simultaneously, full-scale special offer will get underway on Leawo official website which allows giveaway users to obtain multimedia products with 20% Off Coupon Code.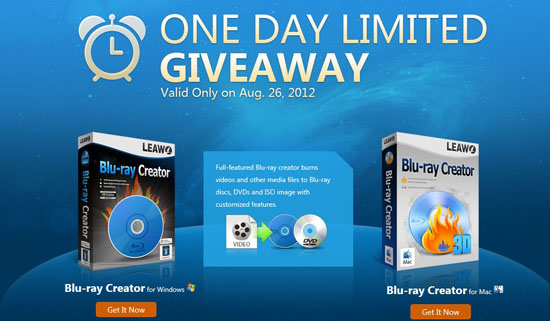 To reach win-win symbiosis, we are fully aware that only high-quality products can return our customers' trust and support. Considering the fact that nowadays more and more people are inclined to watch high-definition movies or even the vivid 3D movies at home rather than heading to theatre which will empty your wallet. We are committed to providing a totally free solution, with the wish to let you have the chance to watch Blu-ray movies indoors. Too see what we sincerely offer for you all:
Free Blu-ray Creator (Win + Mac)
Cooperating with the reliable giveawayoftheday.com, Leawo picks up the Blu-ray making software Leawo Blu-ray Creator Win and Mac versions which win high popularity as the giveaway on August 26. These two pieces of free software not only burn DVDs but also Blu-ray discs. Turn to the brief introduction of this DVD creator and Blu-ray maker:
1. Burn videos to DVD-5/DVD-9, BD-25/BD-50, and ISO file
2. Edit video with common and 3D effects
3. Provide 40+ free static and dynamic disc menu templates
4. Customize your Blu-ray/DVD with build-in menu designer
5. Output BD/DVD for various disc players playback
6. Widely support 3D display devices
7. Support to add external subtitle
As to how can you free get access to the two programs provided, the steps are quite easy to follow. Firstly, download and install the software on the scheduled day August 26. And then go to http://www.leawo.com/cooperation/giveaway-of-the-day.html to get your registration code by offering your name and email address. Finally, use the registration you received to activate the program and afterwards enjoy the full functions of it.
You should notice that technical support and free upgrade services are excluded in giveaway software. If you need it indeed, get the products with 50% Off Coupon Code: GOTDL50. Other products that help you convert video/audio/DVD/BD will also enjoy 50% Off Coupon Code. Remember the coupon will expire on Aug 31st, 2012.
Overall 20% Off Special Offer
Surprises come on the heels of the giveaway issue, Leawo Software also provides 20% Off Coupon Code: LEAWO20 for all giveaway users to shop all Leawo multimedia solution products. This special offer will be valid until Sep 30, 2012.
We also provide online support for all problems you have encountered with. Contact us via giveaway@leawo.com if necessary.
Get ready now? Time waits for no man, so does the rare opportunity. We will wait for your joining in here from now on.