4G network has been widely used for business purpose in North America Market, so lots of manufacturers are cooperating with operators to launch 4G smartphone of sorts to seize the market share. So HTC is loath to lag behind, it not only releases HTC One XL and HTC EVO 4G LTE for AT&T and Sprint, but also is preparing to launch the newest HTC Droid Incredible 4G for Verizon.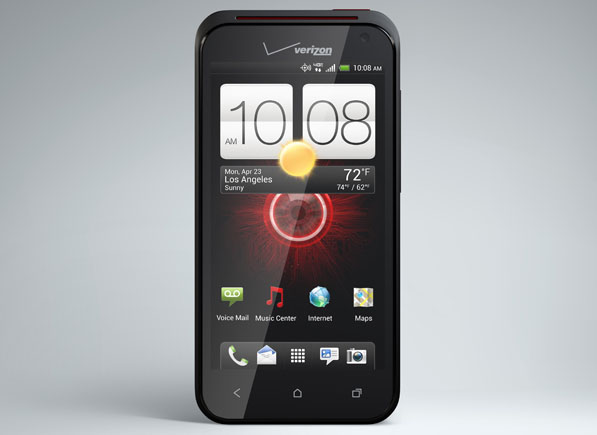 Release on May 31
Although it is the latest forthcoming 4G smartphone, we have a general idea about some features of this phone due to the pictures and related specifications exposed before. However, despite the internal data from operator showing that this smartphone will be released at the end of April, but the official announcement speed is rather disappointing.
Nevertheless, the new phone with code name HTC Fireball is unique in shape: the integral style continues the characteristics of Droid Incredible series, especially the personalized design on the back of the phone.
HTC Droid Incredible 4G can be taken as the Verizon version of HTC One XL to some extent, the main difference lies in that it provides support for CDMA1X and EV-Do Rev 0/A/B network system, and operators' custom content will be added to some built-in services.
Qualcomm S4 Processor
It is worth noting that this phone does not adopt 720p specification touch screen but support qHD resolution, which means that the phone is with lower market positioning than the other customized versions.
Other functions of this smartphone inherit the functional configurations of HTC One XL: it is also equipped with 1.2GHz dual-core Qualcomm Snapdragon S4 MSM8960 processor, the main characteristic is to adopt the brand new 28-nm Krait CPU and Adreno225 graphics processing chip, therefore, it performs five times as fast as the current Snapdragon processor, the graphics processing ability is improved by four times and the power consumption is 75% lower than the current Snapdragon processor.
8-million-pixel Camera
There are no distinct differences between HTC Droid Incredible and HTC One XL: 16GB of storage capacity, 1GB RAM capacity, built-in 8-million-pixel camera, BSI sensor, F2.0 large aperture, 28-mm wide Angle lens, the latest ImageChip that allows static images shooting during video recording. At the same time, it provides 0.2-second focus speed and 0.7-sceond camera start-time, HDR high dynamic range photos support and more functions.
HTC also offers Android 4.0 operating system and the newest HTC Sense 4.0 interface for this HTC Droid Incredible 4G. Other functions of this phone including Wi-Fi 802.11a/b/g/n wireless internet, LTE 4G network, Bluetooth 4.0 technology and NFC function.
According to Verizon, the contract price of HTC Droid Incredible 4G is $299.99, relatively expensive.
HTC phone guides you may need:
How to convert MKV files to HTC Desire HD?
How to Enjoy Your Favorite Movie/Music on HTC Evo 4G?
How to put movies to HTC EVO 4G on Mac?
How to rip DVD Movies to HTC Legend/Hero on Mac?