Recently, the latest WP8 device Nokia RM-820 nan att 100 exposed to the public again. It is expected that the international edition will be announced officially in Nokia World 2012 on September 5.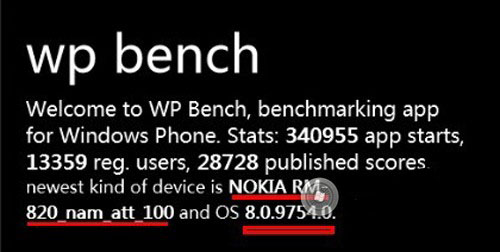 The annual Nokia World congress will be held on September 5 and September 6 in Finland. There are already tons of news and rumors about Nokia Phone 8 before the meeting. However, when people are questioning about the information authenticity they will all refer to the reliable WP Bench application. And this time it meets up with the users' expectation with useful information released.
According to WP Bench information leaked, the built-in firmware of the new Nokia device is RM-820. The "att" means that it is customized by American operator AT&T. And a more important piece of information is that the pre-installed Windows Phone OS version number is V8.0.9754.0, which implies that NOKIA RM-820 is running on Windows Phone 8 OS.
Although no more meaningful information can be found when further data search is conducted, NOKIA RM-820 has entered the factory production stage based on the previous experience. WP Bench has released lots of Nokia WP8 new models, including V8.0.9730.0 Nokia Phi.
Nokia World 2012 is drawing nearer and nearer, it is believed that at least two Nokia Windows Phone 8 models will be released. The exact name as well as the detailed specifications will be announced then. Let's wait and see!
Related Topic
N-Gage Made a Recurrence, WP8 OS Nokia Lumia X Leaked