During Apple WWDC 2012, a new operating system Mac OS X Mountain Lion, the iterative successor to Lion, was officially released with price at $19.99. It is available for downloading in July. Improvements include separate apps for Messages, Reminders, and Notes as well as a new notifications system. iCloud users can also store documents to the cloud.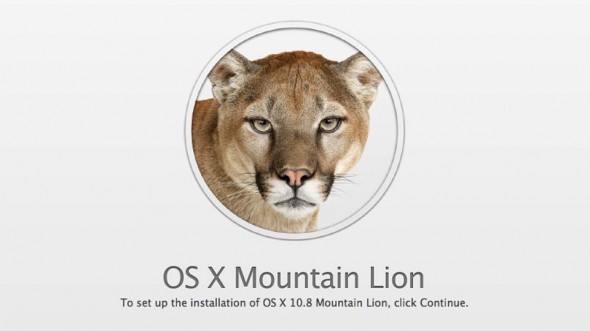 Chinese Custom
When compared to the previous Mac OS X, there are rich optimizations on the functions of Mountain Lion for Chinese users. The Sina Weibo sharing feature is quite similar to the existing Twitter which can be used as a social network platform for sharing. Users only need to login in Sina Weibo account once and then share contents to Sina Weibo through system apps or third-party apps including Safari browser, iPhoto, image preview, Mac App Store, etc. which own the SHARE button.
Built-in iCloud Document Storage Service
Mountain Lion allows you to log in Apple ID for iCloud account setting when turning on Mac at the first time. iCloud can let Mac and iOS achieve real-time synchronization of Contacts, Bookmarks, Calendar, etc.. Meanwhile, the new iWork suite such as Pages can show files in iCloud when turning on, and the files can also be organized with file folders.
New iMessage
iMessage function is added to Mountain Lion, which allows message sending and receiving with iOS 5 devices. This is also the first version of the OS to support Facebook sharing
Reminders
The new Reminders function that is added to iOS 5 is applied to Mountain Lion as well. It helps users remind of some specific matters and iCloud synchronization is supportable as well.
Power Nap
Power Nap can achieve auto update and synchronization when users are off work, for example, falling asleep. In addition, it can save the data automatically in the state of charge. This technology is only applied to the second generation MacBook Air and the new MacBook Pro.
Notes Apps
Support photos, accessories, as well as rich text formats etc. Hyperlink can be added conveniently as well. All can be synced to iOS devices through iCloud.
Inform Center
The new added Inform Center in iOS 5 is also transplanted to Mountain Lion. Calendar, Email, news, notification, Facetime, Game Center, App Store, Twitter and third-party apps notice will appear on the right side of the screen based on your settings.
Game Center
The most popular Game Center has been transplanted to Mac which is used to recommend friends and games for users. Game Center can also let users realize cross-platform gaming, so Mac user, iPhone users can iPod Touch users can play online games simultaneously. In-game voice chatting function is also available.
AirPlay Mirroring
In Mountain Lion, Apple adds Air Play function to Mac. So when your Mac and Apple TV are within the same network, Air Play icon will exist at the right of the tool bar, by clicking on it Mac screen can output to HDTV.
Gatekeeper
For malicious software, Gatekeeper function is added to Mountain Lion, including download validation, safe Safari browsing, program blacklist and etc.
Related Topics
Focus on Apple WWDC 2012: Apple iOS 6 with Siri Chinese Support and Built-in New Map
Top 10 Apple WWDC 2012 Forecasts: iPhone 5 New Hit Possible