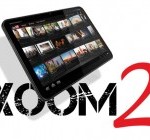 The Thanksgiving Day will be coming this month, all the electronic retailers have been ready to arrange the discount activities for "Black Friday" shopping week, and various sales promotion pictorial posters had been endlessly emerged in the market. The European Carphone Warehouse has already posted the poster of MOTOROLA Xoom 2, however, this behavior aroused the attention of the public media for the reason that Xoom 2 has not been released yet.
It is predicted that the 8.2-inch Xoom 2 with 16 GB capacity and Android 3.2 system is expected to be launched at the price of 399.9 euros during the Christmas season, as one of the Christmas promotion activities.
Although the first generation of Xoom's sales performance is not so good: 100000 units, however, it seems that MOTOROLA has not given up the market.
The Motorola Xoom 2 will be officially released at the scheduled time, and Apple iPad 2 is not only the first choice for you to enjoy so many awesome Christmas movies and home-made movies. You are also have the chance to get yourself a MOTO Xoom 2 as Christmas gift. Convert video to Motorola Xoom 2 and enjoy all videos on it may fulfill your upcoming Christmas holiday to a large extent.
OK, let's wait for Christmas 2011 as well as this splendid Motorola Xoom 2.
You may also like:
How to convert Blu-ray to Motorola Xoom?
How to convert DVD to Motorola Xoom?
How to Convert Video to Xoom?
How to convert DVD to Motorola Xoom on Mac?
How to Convert Video to Xoom on Mac?