Motorola always follow the tradition that the successful rule of one smartphone will be copied and be applied to the following handsets. After the success of new generation MOTO RAZR XT910, similar model designs are put to the upcoming Motorola phones, and MOTO RAZR MT887 is one representative.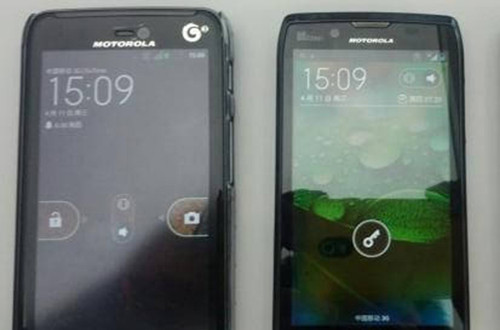 4.6-inch Touch Screen
Motorola RAZR MT887 does not own many differences in integral style when comparing to the previous RAZA series phones. The distinct phone line processing and the camera modeling are identical to the previous ones.
More interesting, from market orientation Motorola MT887 is a bit lower than the flagship Motorola MT917, but it does has improvements on part of designs and hardware configuration. For example, Kevlar material is applied to the back of this phone and it is also equipped with 4.6-inch touch screen which is quite fantastic for you to watch video on Motorola RAZR. But the resolution support remains unknown.
1.2 GHz Dual-core Processor
As for mobile phone processor which has received great concerns, there is no outstanding spot on Motorola MT887 for it still adopts the old 1.2 GHz TI OMAP 4430 dual-core processor, with 1GB DDR2 RAM memory and 4GB storage capacity. Because this phone supports TC-SCDMA/GSM network as well, so it employs double camera design that is prepared for video calling function. And the main camera on the back is shrunk to 8 million pixels.
What is new on the new MOTO RAZR MT887? It should be the latest Android 4.0.3 system which brings users with smooth operating experience. And as for other functions such as Wi-Fi, GPS, memory card extension and Bluetooth 4.0 technology are all included.
What It Exactly IS?
There is rumor that Motorola MT889 is actually DROID Fighter exposed before. According to relevant statement, this phone will be launched as the upgraded version of Motorola RAZR MAXX, with 3300ma battery equipped.
Therefore, it is quite possible MOTO XT887 will also be equipped with 4.6-inch 720p HD touch screen and run on Android 4.0 system, just as DROID Fighter. To put it in another word, MOTO XT887 is bound to be configured with 720p HD touch screen as MOTO XT889.
You may need to know:
How to Download and Save YouTube to Motorola Milestone?
How to Download and Save YouTube to Motorola Droid 3?