Samsung officially unveiled the long-awaited Galaxy S4 at a large event at Radio City Music Hall in New York City today, the phone includes a number of upgrades from the Galaxy S 3, which has surged to become the bestselling Android phone on the market and the leading competitor to Apple's iPhone.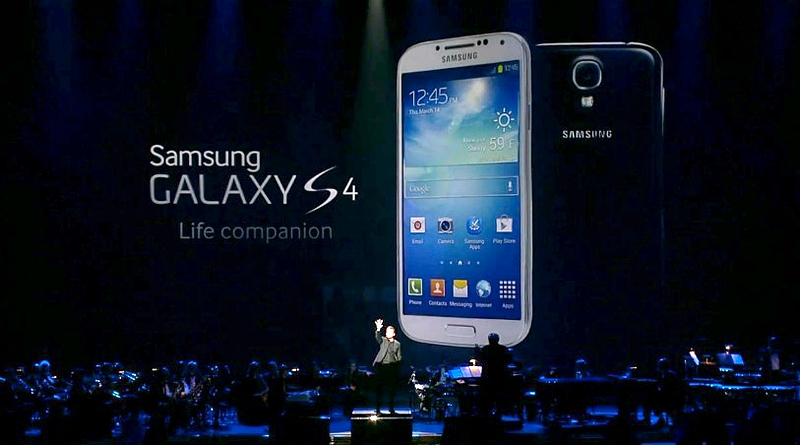 Better than Galaxy S3 (Specs Comparison)
The Galaxy S4 handset steadily draws from the same design language as the S3, but takes almost every spec to an extreme — the screen is larger (5 inches), the resolution greater (1080p), the battery capacity higher (2,600mAh), the processor faster (1.9GHz quad-core or 1.6GHz octa-core), and the rear-facing camera stuffed with more megapixels (13, to be exact).
Android 4.2.2 Jelly Bean, Touch Wiz
The Galaxy S4 runs none other than Android 4.2.2 Jelly Bean, the most up-to-date version of Android you can get right now. Riding on top of it as usual is Samsung's Touch Wiz overlay, a customized interface that I, for one, think is getting a little long in the tooth.
Air View and Gestures
You can not only hover with a fingertip, but also wave or wipe your whole hand in front of the screen (and camera sensor) to navigate around. Hover your finger or wipe your whole hand, you can preview a video clip or image from the photo gallery, glance at browser tab thumbnails, find your place on a video timeline, and check out an e-mail. Flipboard has built a customized app to work with Air View, which lets you hover over a tile to see which articles lie beneath.
IR Blaster as Remote Control
Samsung has put an IR blaster on its phone so you can use it as a remote control for your TV. With the software you can see images of upcoming programs and control a DVR.
S Health Scale
The companion wireless scale that looks quite a bit like the Fitbit Aria is just one part of the larger S Health equation which also includes a Jawbone Up-like monitor (S Band).The scale of course sync with the baked in S Health app over Bluetooth, which makes it quite a bit easier to track how that diet of yours is going. In addition to simply tracking your total poundage, there will be bands for tracking heart rate and the S 4's various sensor can help judge the comfort level of your environment.
Amazing 13-megapixel Camera
Samsung has also made vast improvements to its camera technology. The Galaxy S4 has a built-in 13-megapixel camera, up from the Galaxy S III's 8-megapixel sensor, which uses new camera functions Dual Shot, Eraser, Drama Shot, and Sound & Shot. Dual Shot allows you to capture images from both the front and rear cameras simultaneously
S Translate
The Galaxy S4 ships with S Translate, a baked-in realtime translator that supports 9 different languages. The new S Translate feature offers real-time translation – simply type the question in English and it will translate it audibly. It can do the same thing in reverse, so that when you receive an answer it will translate it and present you with the answer as text.
Pricing and Availability
Samsung plans to stagger releases worldwide in April and May. In the U.S., Verizon, AT&T, Sprint, T-Mobile, U.S. Cellular, and Cricket Wireless will all get the Galaxy S4 (along with Sprint MVNO Ting). Samsung hasn't yet shared plans for other countries.
Since it differs by region and by carrier, Samsung hasn't announced the price yet, but you can expect comparable pricing in your area for the GS3.
Samsung Galaxy S4 Launch Event Video  for Reference
Samsung has made sure to include every salient hardware spec and enough new and interesting software features to Galaxy S4 to hold your attention. Will it be the greatest potential winner in 2013? Stay tuned for more details!