Yeah, you get it right! We are talking about Sony Xperia Tablet but not smartphone. Xperia series is all about smartphone in the past, now this new tablet will be added to as a new member. According to German media Mobiflip, SONY's new tablet is likely to be listed in the Xperia series product line, and will be equipped with 9.4-inch touch screen as well as Tegra 3 processor, is expected to hit the next September.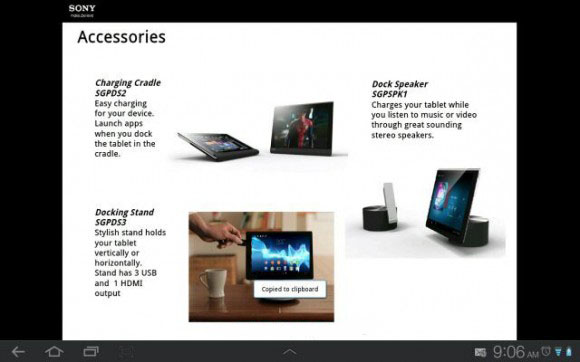 Leaked from the internal document
The information of the Sony Xperia tablet leaked by German media Mobiflip this time comes from Sony internal document demonstration. The most prominent point will be that it is most likely to be classified to the Xperia product line. And the 8.8-mm ultra-thin body makes it 44% thinner than Sony Tablet S.
Sony Xperia tablet has 9.4-inch touch screen, with resolution of 1280 x 800 pixels. It is running on Android 4.0 operating system, and providing 16 GB, 32 GB and 64 GB three capacity versions for options.
Tegra 3 quad-core Processor
In order to obtain more fluid operating experience, SONY adopts Tegra 3 quad-core processor for this tablet PC. Its unique 4-plus-1 architecture acts well in both overall performance and power consumption. With 6000ma large capacity battery, it can bring about ten-hour endurance. In addition, SONY Xperia tablet also supports the 3G and Wi-Fi network. It also adopts double-camera configuration, with 1-million-pixel front-facing camera and 8-million-pixel main camera.
SONY Xperia tablet also employs the waterproof material shell, supporting Bluetooth 3.0 technology, with memory card expansion slot and stereo speakers. SONY is going to design the ultra-portable keyboard as Microsoft "Surface" for this tablet, and also is similar to Apple's "Smart Cover" that with support function.
SP $449.99
According to SONY's internal documents, this tablet is priced at $449.99 (16GB), $459.99 (32GB) and $649.99 (64GB) for reference.
The release date of Sony Xperia tablet remains unknown. But there is the news that Sony will hold a product launch before IFA2012 so it is likely that the tablet will be issued at that time.
Read More
4.6-inch Sony LT29i Coming out, Release in August
Sony Xperia Mint Comes on the Heels of Xperia GX LT29i
Sony Xperia GX & Xperia SX with Qualcomm Snapdragon S4 MSM8960 Dual-core 1.5 GHz Processor are Announced