There is a short period of time before the official release of Samsung Galaxy 2 in Berlin, and until then the world will focus on the largest smartphone manufacturer: Samsung. Today, I have rounded up some information on Samsung Galaxy Note 2. Let's see what can we expect for in the following: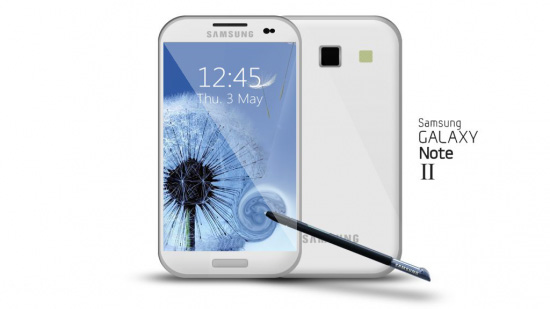 1. Adopt Samsung Exynos 5 Series Chip
The Exynos chip which is developed exclusively by Samsung has become a powerful assurance for the hot selling of Galaxy series products. In July, the technical white paper of the latest Exynos 5250 chip has been released. The information shows that Samsung Exynos 5250 is the first dual-core processor based on Cortex-A15 core design, taking the lead in supporting dual-channel 800MHz DDR3 memory. The new processor will employ Cortex-A15 HKMG process, supporting WQXGA resolution. More powerful processing performance and lower power consumption will be brought by this new processor. Although the flagship Samsung Galaxy S3 does not adopt this new processor, the popularity of Samsung Galaxy Note makes it possible that this powerful processor will be applied to the device.
2. 5.5-inch Screen
Because of the large screen, the first generation Samsung Galaxy Note has won great popularity. The previous 5-inch display has met with the visual requirements of users. And now it is speculated that Samsung Galaxy Note 2 will be enlarged to 5.5 inches.
Seen from the screen leaked, Samsung Galaxy Note 2 screen is up 5.5 inches. And also the appearance will also adopt the water droplet model that is similar to Galaxy S3. Although the size has been enlarged, there is no obvious change when holding the device for Samsung has adopted the advanced narrow border design to enhance the user experience.
3. Up to 2GB RAM
The upgrade on hardware is always the motivation users buy the device. Smartphones in the current market are with 1GB RAM, including the international edition of Samsung Galaxy S3. It is for certain that Samsung Galaxy Note 2 is with 2GB RAM, which is used to compete with the next generation iPhone device.
4. S-Pen Upgrade
Besides the 5-inch screen, the S-Pen contributes a lot to the success of Samsung Galaxy Note. So we can expect that new functions will be added to S-Pen.
5. Enhanced Camera
All photography professionals know that there is no absolute relationship between the picture quality and the resolution. Sensor, graphics chip and processor are all the important elements in photography experience. If more powerful CPU is put to Galaxy Note 2, there is an absolute upgrade in image quality.
6. The First Samsung Android 4.1 Phone
There have been two months since the release of Android 4.1 Jelly Bean, but almost no mobile phone supports this new OS in the current market. Barring accidents, Galaxy Note 2 will be the first Samsung phone that is running on Android 4.1 Jelly Bean system.
Tips you may need:
Download YouTube Video for Galaxy Note
Convert DVD to Galaxy Note 2 for DVD Movie Enjoyment