Exciting news for HTC fans: Windows 8 smartphones Windows Phone 8X by HTC and Windows Phone 8S by HTC have been released. According to HTC, these two phones adopt full new Windows Phone 8 operating system, and simultaneously they are equipped with classical design, high-quality Beats Audio and the awesome camera functions.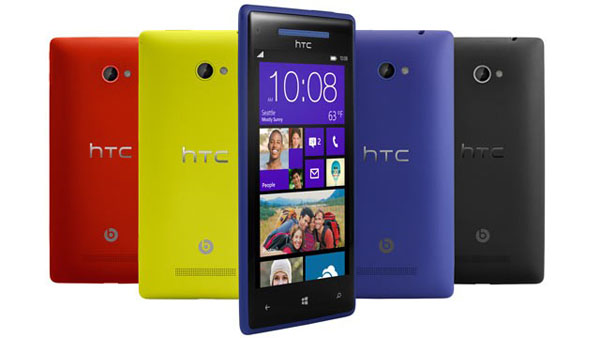 Microsoft CEO Steve Ballmer states that the releases of Windows Phone 8X and Windows Phone 8S will be marked as a milestone. Windows Phone 8 platform stimulates the innovation inspiration of HTC, applying excellent design and individuality to the new series smartphones. Windows Phone is one of the most powerful operating systems in mobile communication industry which is powerful enough to compete with its peer platforms.
Despite the name, the 8X doesn't share all its hardware with the One X. It comes with a 4.3" Super LCD2 720p HD display with Gorilla Glass 2 and optical lamination, dual-core 1.5GHz processor, 1GB of RAM, the One X's 8MP rear camera with f/2.0 lens and backside illumination for improved low-light performance, an all new wide-angle (four times as wide!) 2.1MP front facing camera that can take photos of up to four people at a time and can record video at 1080p Full HD, 16GB of built-in memory, and support for NFC.
In addition to that, HTC's Beats Audio technology has made its way onto their Windows Phone 8 offerings. However, instead of including premium earphones, you'll get a "unique audio amplifier" (read: equalizer) that enhances sound through earphones and the speakers by adjusting sound quality vs. volume in real-time.
The 8S gets somewhat weaker internals. The dual core processor has a lower clock speed of 1GHz, RAM is halved to 512MB, the rear camera shoots 5 MP photos with a f/2.8 lens and records video at 720p HD, there is no front-facing camera at all, and the built-in storage goes down to 4GB, but thankfully it can be expanded with a microSD card. The display too not only is smaller but also has a 2010-era resolution of 800 x 480 and is based on older Super LCD and Gorilla Glass technology .
Colors for the 8X include Limelight Yellow, Graphite Black, Flame Red and California Blue while the 8S gets Domino, Atlantic Blue, Fiesta Red and High-Rise Gray.
Unlike Nokia, HTC has actually talked about the availability of these phones in their event. The Windows Phone 8X and 8S will be available on 150 wireless carriers (including AT&T / Verizon / T-Mobile in US) in 50+ countries beginning in November, "just days" after the release of Windows Phone 8 itself. Pricing, however, has not yet been discussed.