Mother's Day—as a special in honor of our beloved mothers can be traced back to Ancient Greek and the date is on 8 January. It is to be held each year on the second Sunday of May. Mothers would normally receive gifts on Mother's Day and carnation is regarded as dedicated flower for mothers.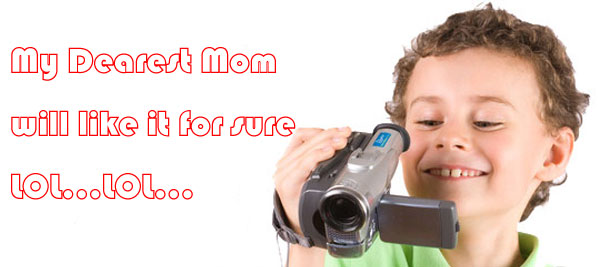 For so many years, mothers have been teaching us how to be a man painstakingly. And this is the special day for mothers. What shall we get mom on Mother's Day? What mothers' day presents can be considered as the best? So how can we show deep love to our mothers? I do believe that a true heart to mothers is the most valuable gift for mothers regardless of those mother's day gifts with high price. Love towards parents is for sure the most vivid and moving present for it is unique and invaluable. So have you got any ideas? If not, I have prepared one for you.
The one that is more special is the one that represents your heart more. Old people generally like to cherish those good old days for those are their happy and romantic memories when they are young. They will often take out of those old pictures and videos and then indulge themselves in the past beautiful days. Have you ever thought of making a video collection for them? This is for their convenience when recalling those beautiful memories. How to make it happen?
If they are old pictures or photos, you can try out a handy PowerPoint to Video Converter which is capable of converting all your pictures to a video.
If they are daily life video clips, a powerful Video Converter is your best choice. It is able to merge all you video clips into a single video so that your mother does not have to enjoy the video clips one by one. Moreover, you can convert the video to any video formats that are compatible with various devices so as to allow your mother to appreciate it anytime anywhere.
"Mom, I fervently hope, for the time God granted us together, you realized how much you meant to me, how grateful I am for your guidance, and how much I love you for being my mother."
So at the dawn of Mother's Day, just try your utmost to prepare something special to your mother. There would not a "you" in the world without her—your dearest mother.