Last updated on 2011-05-16, by video
Dual-core 3D HTC Holiday Functions Exposed
Although the size may be a little bit large has been its deficiency, equipping with large touch screen is a popular trend for smartphone, especially for some flagship level smartphones, with which the outstanding position can be showed flawlessly. In the specifications of HTC Holiday, it is quite possible to add dual-core processor and 3D support function to it. In addition, it will be the first time for HTC phone series to add 4.5-inch qHD touch screen to the configuration and which helps this mobile phone reach to the top level of current smartphones.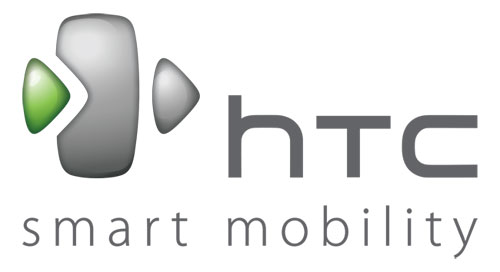 4.5-inch Touch Screen
Among HTC mobile phone family, there are many are equipped with large-size touch screen, from the hottest HTC Desire HD to the new-released 3D smartphone HTC EVO 3D, all of them are with 4.3-inch touch screen. Large-size touch screen is quite excellent for website browsing, movie watching and game playing. So you can convert video to HTC Desire HD or convert video to HTC EVO 3D for wonderful video enjoyment.
What is shown within the specifications of new HTC Holiday indicates that this phone will be with 4.5-inch touch screen and supports qHD resolutions. Although the specific touch screen material still remains unknown, such a wise touch screen can be totally described as "shock", especially when it combines with 3D supporting function with which its power has been doubled.
 8-million-pixel Dual-camera
If the previous HTC Rider can be regarded as the GSM version, HTC Holiday this time can be taken as the upgraded version of HTC EVO 3D. Similar to Sharp SH-12C, for the sake of achieving 3D image function, it is with built-in 8-million-pixel dual-camera, supports automatic focus and flashing, and with which users are able to record 3D video. Moreover, 3D video can be playback vividly on the 4.5-inch qHD touch screen, without the help of glasses. Besides, it is with 1.3-million-pixel front-facing camera. 
 1.2 GHz Dual-core Processor
In order to obtain a more fluent speed and reflect the flagship identity of this phone, the mainstream dual-core processor is added to HTC Holiday. What should be concerned is that the exposed information shows it is with 1.2GHz processor but what is different is that it adopts Qualcomm MSM8660 dual-core chip set. Compared with the current MAM8260 in HTC EVO 3D, it is with more powerful performance.
Based on the performance test of MSM8660, not only the basic frequency is up to 1.5GHz, but also the 3D performance overwhelms almost all mobile processors on the market. More surprisingly, the tie-in Adreno 220 GPU corresponds to HTML5 video & audio and flash streaming, supporting dynamic films playback.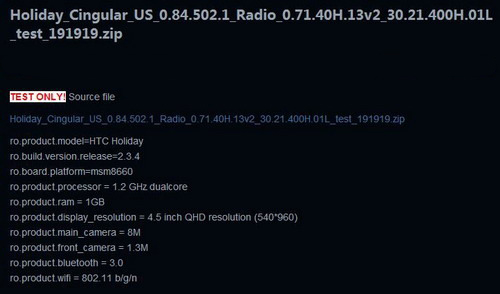 Solid Information Channel
HTC Holiday brings with naked-eye 3D technology, dual-core processor and more shinning features, adopting Android 2.3.4 system, possessing 1GB RAM, Bluetooth 3.0 technology, WLAN link and more. It still remains unknown whether it will support 4G network.
It is reported that HTC Holiday will be released by American operator AT&T, but it is also expected that other versions will be revealed in other areas globally.