Last updated on 2022-11-29, by video
Facebook Video Audience Grow Faster than YouTube's
According to the data from market research company ComScore, it shows that the video audience of Facebook grow much faster than YouTube's.
ComScore said Facebook video audience has reached 41 million by this April, it grows 2 times compared with 13 million in the same period last year. While YouTube audience has increased 25% to reach 1.35 billion in total.
The competition with Google in video field is a very important strategic step for Facebook to be an influential video-sharing website. Another market research company Inflatable Water Slide Experian Hitwise says, the independent visitors number of Facebook has exceeded the one who visit Google the first time in March, Facebook has become the No.1 website which has the biggest traffic.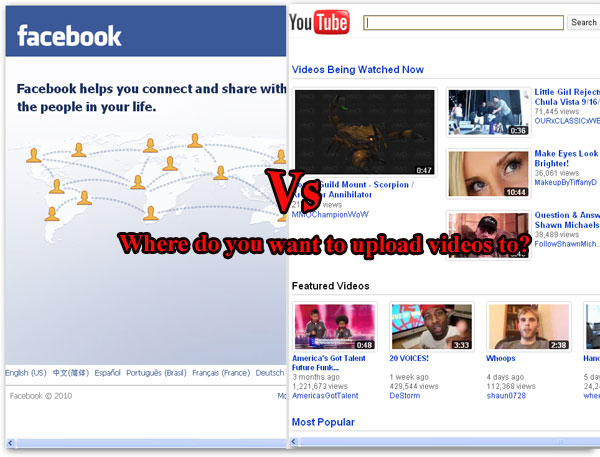 YouTube rivals are definitely a challenge for Google. Barclays capital analyst Doug Anmuth once said YouTube may begin to profit this year. However, Google did not disclose YouTube performance separately in the financial statement.
Market research firm Diffusion Group analyst Colin Dixon, the analyst from market research company Diffusion Group said: "Now, more and more users prefer to upload their own videos to internet and share with relatives and friends. In this circumstance, YouTube is most likely a public place, while Facebook has higher privacy."
ComScore said, according to the number of audience, Facebook is 5th biggest video-sharing site after Google, Yahoo, News Corp and Vevo. Since April 2009, Facebook has more audience than AOL, Viacom, Microsoft and Hulu.
The Pew Internet and American Life Project said in its report recently, speaking of publishing video, social networking sites are more preferable than video sharing sites. According to a survey, 52% of respondents intend to upload videos to social networking sites like Facebook, MySpace etc, while 49% intend to upload to video-sharing sites like YouTube and so on.
The deputy director of Pew Internet and American Life Project, Kristen Purcell said Facebook users are developing higher demand of limiting people who can view their videos. 39% uploaders only allow relatives and friends to watch their videos, and 35% are very cautious when uploading videos to internet.
By the way, do not forget to click LIKE in our Leawo Facebook Like Box and we will always keep you posted by the latest news, discounts, promotions and more!