Last updated on 2012-06-28, by video
Focus on Google I/O 2012: Google Nexus Q Streamer the Small Ball Rocks Your World
It is called "the first social streaming media player" at $299. Yes, it is the new product at 2012 Google I/O—Google Nexus Q.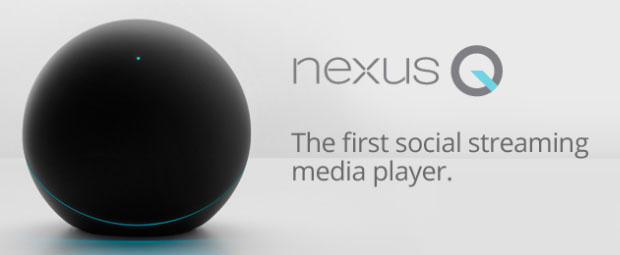 Google has launched a new home media server called Nexus Q at its developer conference in San Francisco. What indicates in the statement "the first social streaming media player" is that it functions as a cloud-connected jukebox. The black, spherical orb can be used as an amp to power speakers, hooked up to an HDTV, and is controllable from any Android device running Android 2.3 "Gingerbread" or higher. It grabs content from the Internet and lets you play it on your big-screen TV. (Unlike those other, cheaper devices, it also has its own speaker amplifier.) Users on the same local network can also control it from their own mobile devices, "throwing" content like video or songs onto it.
Based on the demonstration of Google, Google Nexus Q is a derivative of the company's home automation division "Project Tungsten". It measures 4.6-inches in diameter, and weighs a hefty two pounds.
The Nexus Q runs Android 4.0 "Ice Cream Sandwich" and sports an OMAP 4460 dual-core ARM Cortex A9 CPU with an SGX540 graphics core, 1GB of RAM and 16GB of flash memory storage. The Nexus Q has a full complement of ports, including Micro HDMI, TOSLink optical audio, Ethernet, and speaker jack connectors, along with a single micro USB port that Google says is for "service and support only". It also features Bluetooth, Wi-Fi 802.11b/g/n and near-field communications (NFC).
As to visual effect, the device features 32RGB perimeter LEDs and a single RGB LED that acts as a mute indicator. For the apps it supports, there are Google Play Music, Google Play Movies and TV, and YouTube.
However, when comparing to Apple TV it is weak and the price is too high as well. The Google Nexus Q priced at $299 and will ship next month.