Last updated on 2012-04-18, by video
HTC Desire V Series Phones Issued—HTC 3G Dual-card Support
Due to the dual-card support function and low price, HTC T328w which was exposed not long ago, has received great concerns. And now with the official release of this phone, more surprises are brought to users. According to official HTC released information, HTC T328v belongs to the latest HTC desire V Series.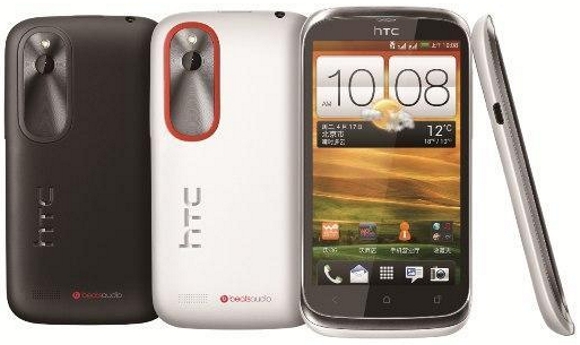 Various Versions
Based on different network system, there are certain differences in HTC desire V series mobile phone models. For instance, the China Mobile version is called HTC desire VT, the China Telecom version is called HTC desire VC and the earliest China Unicom version is named HTC desire V.
In addition to the difference in appearance, HTC desire VC and HTC desire V provide users with dual-card support function while HTC desire VT adopts TD-SCDMA/GSM network but with no dual-card support function.
4.0-inch Touch Screen
As for mobile hardware configuration, though there is no outstanding point of the three new HTC handsets, they own some special features: for example, it is equipped with 4.0-inch WVGA capacitive SLCD touch screen, built-in 1GHz Qualcomm MSM7227A processor, 512MB RAM capacity, 4GB ROM storage space, and up to 32GB memory card expansion.
Embedded 5-million-pixel camera is included in HTC desire V series, with 1/4-inch CMOS sensor and LED flash light, supporting automatic focus and video recording functions, etc. In system platform, it employs Android 4.0 operating system as well as the newest HTC Sense 4.0 interface, which not only bring new landscape modes to main picture, but also the new UI is with improved task switching and informing functions.
Low Price
Although HTC desire V series are not positioned as high-end market mobile phones, HTC also makes an enhancement on the music entertainment functions, with Beats Audio and SRS WOW HD sound added which enable you to get access to rich and strong bass as well as clear and natural sound quality performance. And except for the built-in FM radio and 3.5-mm earphone interface, all other functions are included: gyroscope, gravity sensor, environmental sensors, distance sensor and digital compass and the bluetooth V3.0 technology, GPS navigation, Wi-Fi and more.
HTC desire V series will also provide a variety of fashionable color designs for users' options and it is quite competitive with low price.
Other HTC Phones:
Quad-core HTC One X Is Bound to Make A Debut with 4.7-inch HD Display
HTC Ville Trail Video Leads You to Experience Splendid Phone Features
HTC Pyro: Quadcore Concept Phone Running on Android 4.0 System