Last updated on 2011-06-23, by video
HTC Rider—Another Dual-core 4G Smartphone Leaked Again
The main characteristic of HTC product strategy undoubtedly lies in that it launch smart phones with various specifications according to different network standards and operators. Currently, HTC Rider is going to make a debut and the related information can be found on the internet now. Some one said that this 4G smartphone will be put into the Korean and Japanese market in the name of HTC EVO 4G+.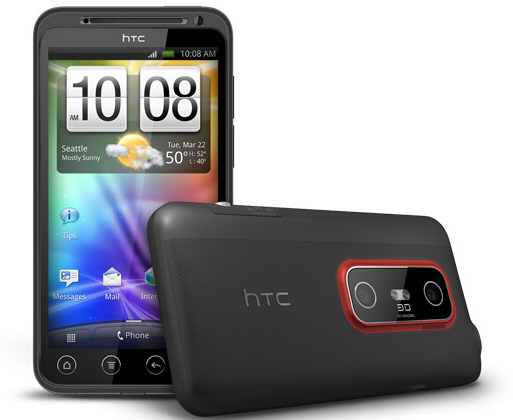 It is said that this mobile phone will be with all the functions and features of HTC EVO 3D except 3D image function. It will be released in the name of HTC EVO 4G+ which focuses on high-speed network surfing.
 1.2GHz Dual-core Processor
Due to the similarity with HTC EVO 3D, HTC Rider is with preeminent hardware configurations. It is provided with Qualcomm Snapdragon MSM8660 processor, 1.2GHz dual core and Adreno 220 graphics processor and the performance of the latter is four times of the previous Adreno 200. HTC Rider also has 4.3-inch qHD touch screen, supports multi touch and with the latest HTC Sense interface.
 8-million-pixel Camera
For the sake of not supporting 3D image recording function, HTC Rider camera resolution will be 8 million pixels. Besides, it has LED supplementary light, automatic focus and 1080p video recording and playing functions. And with the help of the 1.3-million-pixel front-facing camera, users can achieve video call in 4G network. For other functions, HTC Rider will run on Android 2.3 OS, with 3.5mm headset interface, GPS navigation, memory card expansion and more.
 Powerful Wireless Network
HTC EVO 4G+ has some outstanding features in wireless network function. It is said that it will support Korean standard WiBro network which can bring with 4G network downloading speed similar to WiMax technology. Simultaneously, HTC Rider performs well in other wireless connections, it can not only support 14.4Mbps HSPA+ network and Bluetooth V3.0, but also its WLAN (Wireless Local Area Network) 802.11b/g/n function is able to support DLNA (Digital Living Network Alliance) connection that can realize wireless connection and data transmission among different devices.
 The specific release date of HTC Rider has not been settled yet so let's just for the good tidings.
 You may also need this information for enriching digital life with HTC smartphone:
How to convert MKV files to HTC Desire HD?
How to Enjoy Your Favorite Movie/Music on HTC Evo 4G ?
How to put movies to HTC EVO 4G on Mac?
How to Rip DVD Movies for Mac and then Play on HTC Legend/Hero?