Last updated on 2022-12-02, by video
iPad 2 VS. Android: iPad 2 Continues to Take the Lead in Tablets
News from Washington Post declares Apple iPad 2 still dominate the leading role in the tablet market but not Android.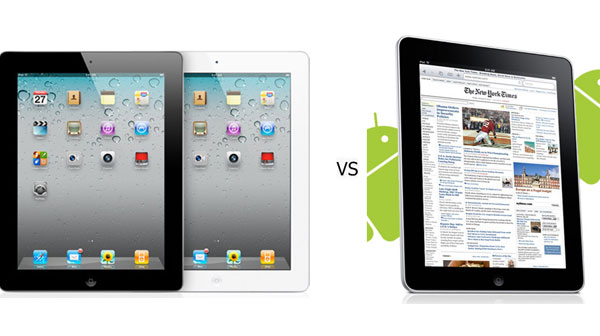 In the Era of "Post-PC"
Apple defined the tablet PC market by means of iPad about a year ago and in most time of last year Apple can be said as the only supreme in this area. At the point of numerous tablets that employ Google Android and HP webOS will be on the market soon, Apple built itself up by virtue of iPad 2. iPad 2 is scheduled to come into the market in March 11 in America, $499 is still the lowest price and the display screen remains 9.7 inch, but lighter and thinner and with two built-in cameras. Its dual core processor speed doubled and battery life keeps 10 hours.
Apple founder and CEO Steve Jobs released iPad 2 personally and he declared he did not want to miss the grand occasion. He called the tablet PC market as the "Post-PC" era, in other words, it is wrong for Apple competitors to propagandize bouncy castle for sale their own products are with higher specifications. Electronic products in the era of "Post-PC", take Apple iPod, iPhone and iPad for example, just like household appliances whose value depend on the extent of convenience and easiness.
Price Advantage
A more difficult issue to be settled for Samsung, Motorola, HP and RIM is that: to win the price advantage over Apple.
It has overturned the history of computing technology development: Apple products are famous for their high price traditionally. Products including Mac Book, iPod and iPhone can be called the civilian luxuries for they are more expensive than their peer products by virtue of the elegant design.
With iPad, Apple revivals tablet PC market and such an advantage helps Apple gain a series of long-term contracts from supplier, purchasing flash memory and LED display screen and other components in a favorable price. During the earning teleconference in preceding quarter, Apple revealed that it has made a two-year $3.9 billion accessories supply agreement with the supplier. Maybe this can be served as the reason why Apple can maintain iPad 2 in a low price. The most advanced iPad 2 with 64G, supports AT&T and 3G website only costs $729, on the contrary, Motorola Xoom tablet PC 32G with Android OS with cost you more $70. Other companies declare to release tablets even don't want to announce the price and listing date. In the product demonstration, HP Touchpad and RIM PlayBook probably make people impressive, and take a leading role in multitasking capacity can flash supporting capacity. Apple competitors expect iPad 2 will be with a higher price then they can announce the price of their products. But now it is quite obvious that the truth will let them down and they have to make adjustment.
More Applications
Among the well-known iPad 2 competitors, only Barnes & Noble NookColor has a price advantage. This Android-based tablet only cost you $249 but it is an internet-enabled electronic reader, not like iPad with full features.
In the product release conference, Apple demonstrated the versatility of iPad 2. Steve Jobs stressed that there are 350 thousand applications in App Store and 65 thousand are specially designed for iPad. In contrast to iPad application, there are only 100 applications designed for Android. Furthermore, Windows OS is proud of its alternative applications and Mac is relatively weak in this respect. However, in the era of "Post-PC", Mac dominates the leading role in application diversity.
Some smart software that supports both iPad and Android OS devices you may have interest in:
Video Converter: http://www.leawo.com/leawo-video-converter/
Video Converter for Mac: http://www.leawo.com/free-mac-video-converter/
You can use make good use of them to enjoy any media files with iPad and Android OS devices.
Want to get more information? Never turn away, just focus.