Last updated on 2012-09-10, by video
Top 10 Issues on iPhone 5 Product Launch Event on Sep. 12
It is said that Apple will hold a product launch event on September 12 for the new smartphone. Apple does not explain what preparations it has made for this event, but the invitation shows clearly that iPhone 5 will be the focus.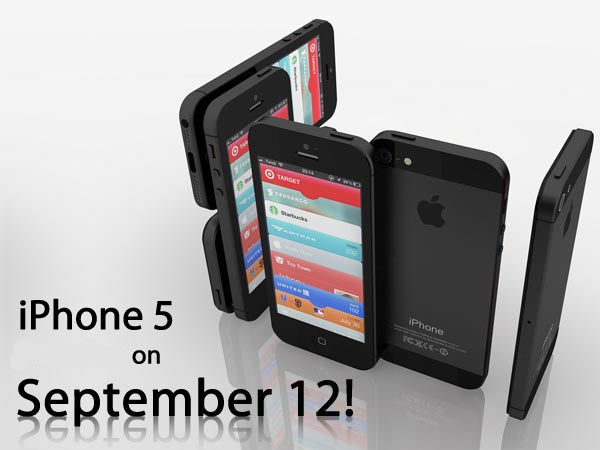 For months, people have heard that Apple will hold a product launch ceremony to release next generation smartphone. In the past few weeks, every rumor says Apple product launch event is due on September 12, and now it has been confirmed that it is the official release date. The next generation Apple iPhone 5 will be the highlight of the meeting, but more information including statistical data, software and some comments that are with the aim to attack Android.
In the following there will be top 10 issues worth looking forward to on September 12.
1. Larger Screen
It is certainly that iPhone 5 will be equipped with larger size screen. No matter it is about the new manufacture components, or the actual device model provided, Apple will not offer iPhone 5 with other size but 4-inch model.
2. 4G LTE
At the same time, Apple needs to catch up with its competitors, for example, the Samsung Galaxy S III provides 4G LTE service. The absence of 4G LTE in iPhone 5 will be a mistake.
3. More Statistical Data
It could not be said as Apple product launch event if there is not a succession of statistical data that makes its product popular. Without doubt, Apple will try its best to prove the advantages of its products.
4. More Discussions on iOS 6
Apple iOS 6 may be launched together with iPhone 6, therefore, Apple will spend lots of time in discussing the next generation operating system.
5. The Absence of Tim Cook
Don't expect that Time Cook will spend lots of time on this product launch event. As a matter of fact, he probably will show up at the beginning of the event and make a conclusion at the end of the event.
6. Beautiful New Design
It is most likely that Apple will apply full new design to iPhone 5. The new design merges tempered glass with liquid metal, so as to enhance the device protection. It is time for Apple to provide new iPhone design.
7. Higher iPhone 5
In order to offer larger screen size for iPhone 5, Apple has to make iPhone higher. There will be some problems if the phone length is increased. Higher iPhone 5 will provide with some advantages, but it is also not excluded that it will be a pain.
8. The Same Price
Apple used to insist on the pricing model of iPhone. We have to admit that it is a smart strategy. It has been proved that consumers are willing to spend extra $200 a year for the latest and the best smartphone. Apple is quite satisfied with the price $600 it offers to operators.
9. iPad Mini
It is reported that Apple iPad Mini will be released in October, however, Apple has not confirmed the existence of this product. So iPad Mini may not appear in this week's product launch event.
10. Attack Samsung
Apple likes to attack its competitors, that is the right reason Apple is going to mention the patent case. So it is expected that the target Apple aims to attack on September should be Samsung.