During IFA held in Berlin, Sony not only released its flagship Xperia T, but also launched other two Android-based smartphones: Xperia V and Xperia J. The configuration of Xperia V is similar to Xperia T. Xperia V has cancelled the green ball design on the back, adopted 1.5GHz dual-core processor, with 13-million-pixel rear camera, run on Android 4.0 ICS operating system and supported NFC technology. What differs from Xperia T is that it is equipped with 4.3-inch 720p HD Reality screen and is going to support LTE network in American area.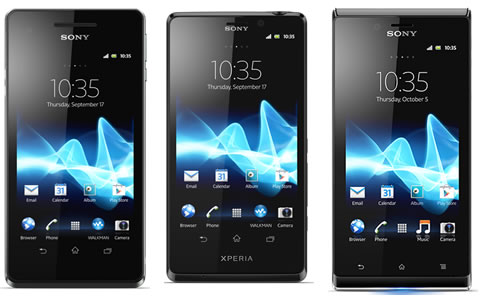 The Xperia J is with lower configuration: 4-inch 854×480 display, 5-million-pixel main camera, 1GHz CPU, and has black, white, golden, pink four colors for options. Although the configuration is not as high as Xperia T and Xperia V, it is quite awesome in appearance.
Sony new flagship Xperia T was called Mint previously. And rumors about it started from January this year, it comes out in 2012 IFA finally.
The highlight of Xperia T lies in the 4.55-inch 1280 x 720 Reality screen. Sony claims that it is the best smartphone for HD experience which allows users to enjoy 1080p HD video on Sony phone. Xperia will run on Android 4.0 operating system but Sony does not mention when the users can upgrade it to Jelly Bean system. As to the camera, Xperia T has 13-million-pixel camera, 1080p video recording support, and the function named Sleep Snap lets users to regulate to the picture shooting state from black screen state.
Other configurations included in Xperia T (Xperia TX) are: 1.5GHz Qualcomm MSM8260A Snapdragon S4 dual-core CPU, front-facing camera with 720p video recording function support, MHL, FM radio, 16GB memory, 1850mAh battery capacity and NFC function support.
In appearance, Xperia T is 9.35mm thick, weighs 139g, and has black, silver and white three color for options. In addition, Xperia allows 60-day wireless music experience. But when this phone will be put into the market remains unknown yet.