Unlike the high-key Nokia WP8 new devices, the first HTC WP8 phones hold low exposure rate. Currently, after the leaked information of HTC WP8 two new phone models, the latest information coming from Indonesia telecom regulation website shows the specific model of HTC WP8 new phone for the first time.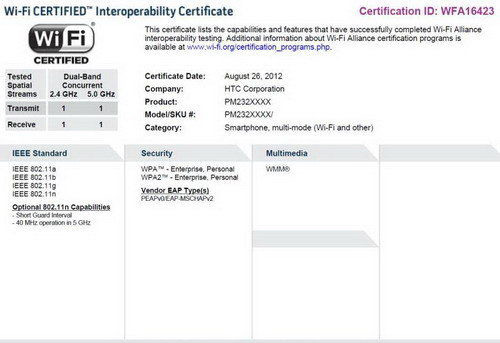 Phone Model
New HTC phone exists on Indonesia telecom regulation website is specially marked with the WP8 system status, the formal model is HTC C620e. Although no more valuable information about this new phone has been leaked, we can still speculate that the WP8 phone labeled "PM233xx" is likely to be the prototype of this new phone.
And judged from the previous information, HTC Accord is closer to HTC C620e in specifications. HTC Accord is included in the previous media report which is scheduled to make a debut in October this year.
Dual-core Processor
This conclusion bases on the fact that the first HTC Mango new phone's model is HTC C110e (HTC Radar), so according to the HTC naming rule, HTC C620e should be a high-end phone model. And the past leaked information indicates that the first HTC WP8 phone will be "Rio", or "Accord" or "Zenith". The most powerful "Zenith" will be released in the fourth quarter this year, and also the "HTC Rio" is a new entry level model, so "HTC Accord" can be the first choice naturally.
It is reported that "HTC Accord" will be equipped with 4.3-inch 720p Super LCD2 touch screen, with 8-million-pixel built-in camera which supports 1080p HD video recording. Besides running on Qualcomm Snapdragon S4 MSM8260A dual-core processor, it has 1GB RAM and supports NFC function.
Release in September
According to the exclusive disclosure from WPDang, HTC is planning to release the first WP8 phones in the third week in September this year. And at the appointed time, there will be two phone models. And in October they will probably be put into the market.
The current situation shows that the preparation works of HTC WP8 are being fulfilled step by step: Bluetooth testing, Wi-Fi authentication, test and audit in various countries and regions. So it is expected that in the near future, we can get access to HTC WP8 phone.
You may also like:
Windows Phone 8 VS iOS 6 VS Android 4.1
Brand-new Windows Phone 8 Nokia RM-820 Surfaced
N-Gage Made a Recurrence, WP8 OS Nokia Lumia X Leaked