Last updated on 2023-09-20, by August
15 Best Free Photo Editors to Edit Photos Easily
While photographers often use advanced paid software like Photoshop to fine-tune images, simple editing can also be done effectively using free online tools. Whether you want to quickly share photos from a day out or touch up shots for social media, free editors provide basic but valuable options without a cost.
In this article, we showcase 15 of the best free photo editors you can use to improve pictures easily and conveniently. From adjusting lighting and color to cropping and applying filters, these editors offer core editing features to help you showcase your best shots without breaking the bank. Read on to discover powerful yet straightforward software options that you can access from any device.
Also Read:
How to Free Download iBOMMA Telugu Movies?
How to Download Uncut Aagmaal Web Series for Free?
Hiidude: Download Kannada, Tamil, Hindi, Telugu, Malayalam Movies Free
Part 1: 5 Best Free Photo Editor Software for Desktop
In this section, we will introduce you to the 5 best free photo editor software for desktop.
△

1. Leawo PhotoIns

Leawo PhotoIns is easy to use yet powerful. It supports 33 file formats including JPG, PNG, RAW. Photo Enhancer allows adjusting brightness, contrast, saturation, temperature and more with sliders. Objects in photos can be precisely removed or replaced using Photo Background Remover. Its AI-powered algorithm analyzes photo content and outlines the subject. Enlarged photos maintain edges and details without pixelation up to 40X using Photo Enlarger. Batch processing lets users work on multiple files at once.
– Enhance photos easily with advanced AI technology
– Fix photo exposure and white balance issues intelligently
– Optimize photo colors and perfect photo tints
– Support RAW and JPG photo processing
– Automatically remove background from image
– Easily change photo background and add background to photo
– Increase resolution of images to enlarge photos
△

2. Photoscape X

Photoscape X has simple tools like crop, rotate, red eye removal etc. Images can be assembled into panoramas using the auto and manual options. The levels, curves and color adjustment tools provide advanced corrections. Objects can be precisely erased using the clone and heal tools. Filters like blur, stylize, sketch etc are available. Users can add captions, stickers, or create GIF images. Photoscape also lets users view and organize photos easily.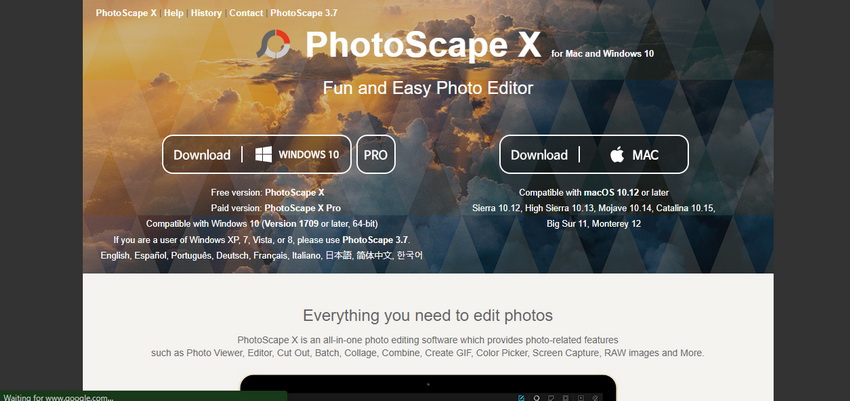 Features:
Basic editing tools for cropping, red-eye fixes
Panorama stitching
Layered non-destructive adjustments
Filters and effects
GIF creation
Image organization
△

3. Photo Pos Pro

The Photo Pos Pro software has non-destructive layers to isolate objects or areas. Selection tools include marquee, lasso and magic wand. Adjustment layers allow targeting corrections to specific areas. Effects like blur, dodge, burn and grain can be added on layers. Presets simplify common tasks. Images can be transformed using distortion tools. The calibration tool reads RGB values for color accuracy. Users get photo cataloging, RAW support and batch processing too.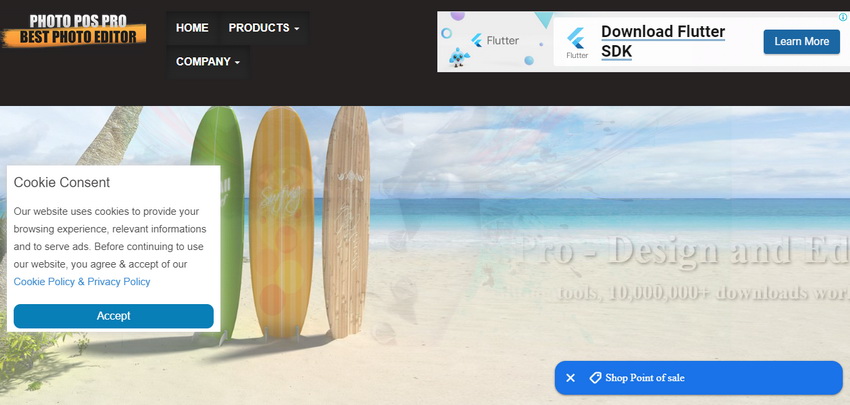 Features:
Layer-based editing
Advanced selection and masking
Targeted adjustments via layers
Retouching tools like dodge, burn etc.
Distortion tools for transformations
△

4. GIMP

GIMP is highly extensible via plugins. It has advanced selection tools, layers and channels. Basic tools allow cropping, transforming, and combining images. Filters include blur, sharpen, noise etc. The toolset enables retouching, photo compositing and photomontages. Users get unlimited undo, stylus support and script-fu for automation. Online tutorials help learn this powerful editor. Though complex, it yields professional results for experienced users.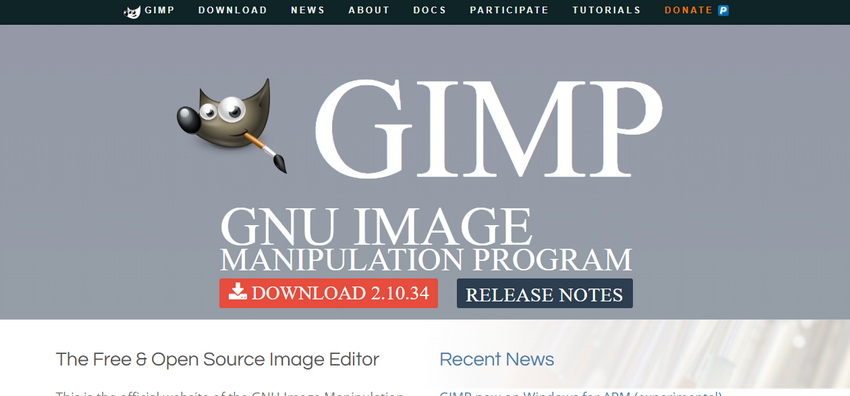 Features:
Scripting support via Python for automation
Unlimited layer stacking
Advanced selection and masking tools
Plugin ecosystem for added functionality
Online tutorials for learning
△

5. LightZone

LightZone performs non-destructive edits on RAW files retaining full resolution and metadata. Adjustments have control points for targeted retouching across portions. Presets simplify common tasks. It has crop, straighten, spot removal and heal tools. Filters include vignettes, texture overlays etc. Virtual copies preserve the original while exploring edits. The interface syncs adjustments across similar photos in a set. Though development ceased, it remains capable for serious photographers.
Features:
RAW photo non-destructive editing
Virtual copies for safe editing exploration
Control points for targeted adjustments
Presets for usual modifications
Metadata preservation during edits
Part 2: 5 Best Free Online Photo Editors
Looking for something online? Here we have a selection of 5 best free online photo editors.
◎

1. Photopea

Photopea is one of the most robust free online photo editors available today. With an interface that closely mimics Photoshop, it allows users to perform advanced non-destructive editing including layer mask and adjustment tools.

Photopea supports working with RAW files and features many options for adjusting light, color, effects and more through its comprehensive toolset. Files can be saved in common formats such as JPG, PNG and even Photoshop's PSD. Whether a casual photo editor or professional, Photopea's powerful yet accessible options make it a top choice for basic to advanced non-destructive editing from any computer.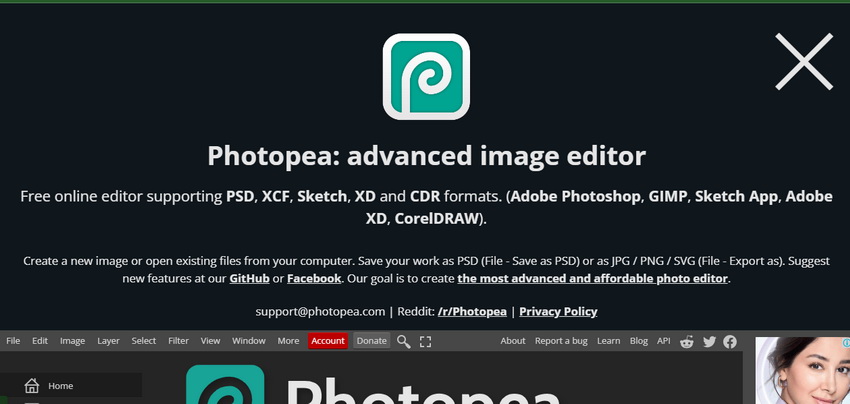 ◎

2. Pixlr

Pixlr is another versatile photo editor that stands out for its cross-platform accessibility from any web browser or smartphone. It offers a refreshing simplicity versus overwhelming users with too many options. Within its clean and approachable interface, users can perform quick but effective adjustments like exposure, contrast and cropping.

Basic overlay tools allow for adding visual elements to photos as well. While not as fully-featured as other options, Pixlr is hugely convenient for fast fixes on the go without any downloads. Its mobile app further enhances on-the-fly editing capabilities anywhere inspiration strikes.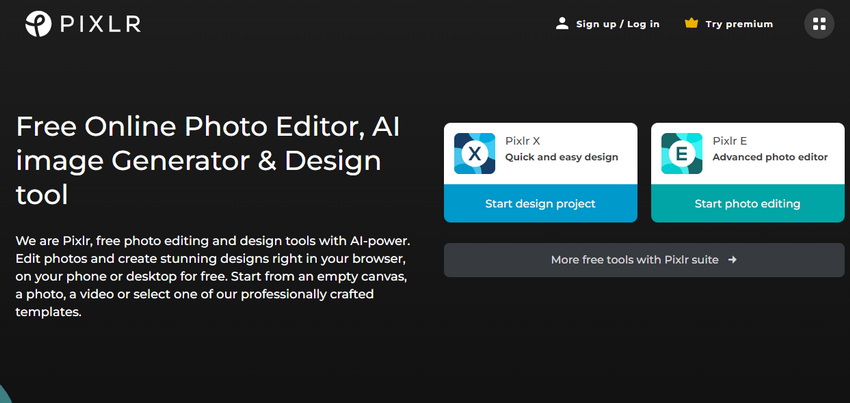 ◎

3. Canva

Canva sets itself apart from other online photo editors through an emphasis on visual graphic design over raw image manipulation. Beyond adjustments and basic effects, it provides a large selection of pre-made templates, colors, shapes, graphics, icons, fonts and elements that users can freely incorporate into their photos to create sharp, modern visuals.

Unlike strictly pixel-based tools, Canva empowers rapid assembly of original collages, social graphics, presentations and more. Both amateurs and professionals benefit from its user-friendly interfaces optimized for a variety of screen sizes.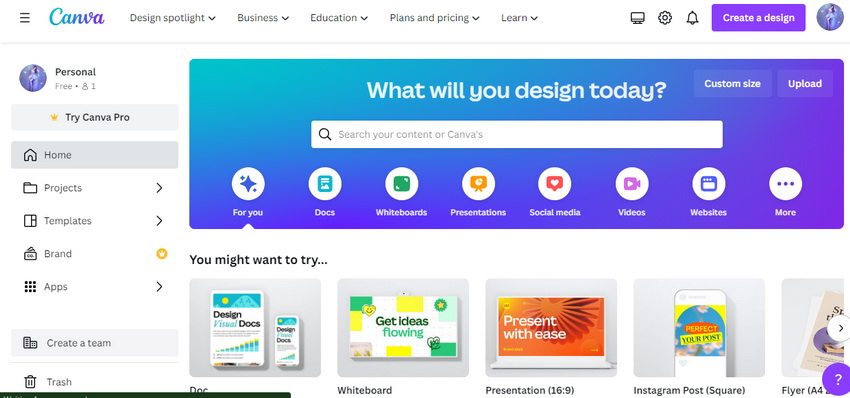 ◎

4. Snapseed

Snapseed by Google is a powerful yet user-friendly mobile app and web editor perfect for professionals looking to fine-tune an image. It includes advanced brush and healing tools for selective adjustments that have transformative potential without complex masking.

Users especially appreciate its customizable presets built for specific re-imaging goals like brighter portraits or ambiance effects. Whether used as a standalone editor or supplementary tool, Snapseed remains an editor of choice for its precise yet efficient controls.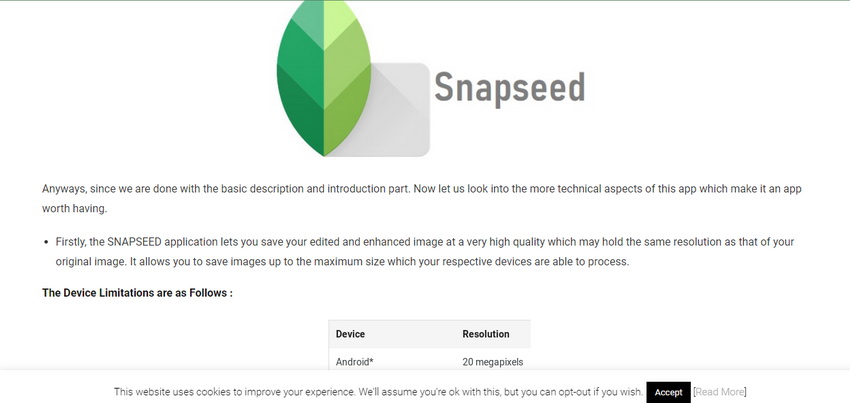 ◎

5. BeFunky

BeFunky sets itself apart through a playful, experimental interface optimized for creativity. It boasts a massive selection of real-time filters, textures, borders, overlays and special effects that empower users to transform photos in fun new ways.

Mobile and web access further encourages spontaneous visual trial and error. While perhaps not the strongest choice for serious photo documentation, BeFunky could be a terrific pick for students, beginners or hobbyists seeking an editor that inspires new visual ideas.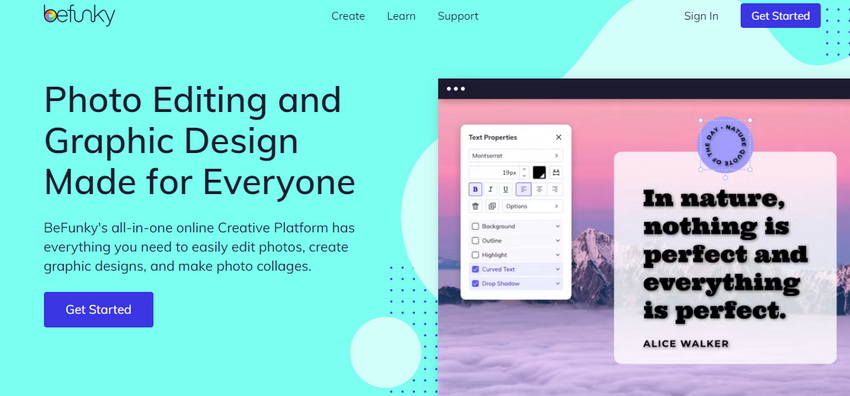 Part 3: 5 Best Free Photo Editor Apps for Smartphone
Here are the five best free photo editor apps for smartphones, each offering unique features and capabilities to enhance and transform your photos.
1. PhotoDirector
PhotoDirector is a powerful photo editing app available for smartphones. It offers a wide range of features and tools to enhance and manipulate your photos. With PhotoDirector, you can adjust brightness, contrast, saturation, and other parameters to improve the overall look of your images. Additionally, PhotoDirector offers various creative effects, filters, and overlays to add a unique touch to your photos. The app has a user-friendly interface and is suitable for both beginners and advanced users.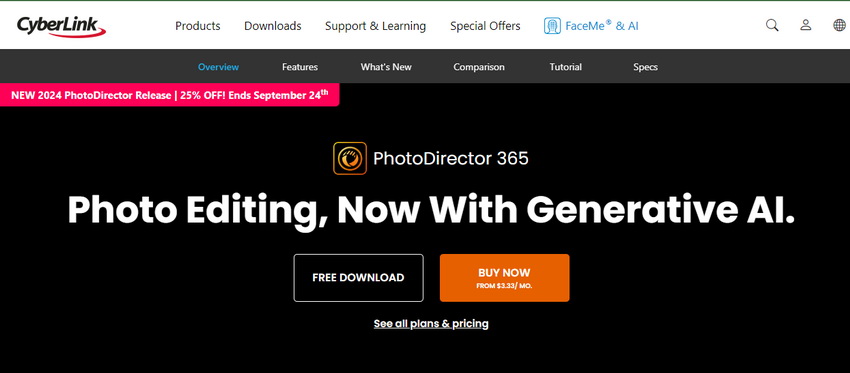 2. Adobe Lightroom
Adobe Lightroom is a popular photo editing app that offers professional-grade editing tools for smartphones. It allows you to edit and organize your photos with ease. Lightroom provides a wide range of adjustment options, including exposure, color temperature, tone curves, and more. It also offers advanced features like selective editing, healing brush, and gradient filters. Moreover, Lightroom provides a powerful camera module that allows you to capture and edit RAW photos directly on your smartphone. The app seamlessly syncs your edits across devices, making it convenient for photographers who work on multiple platforms.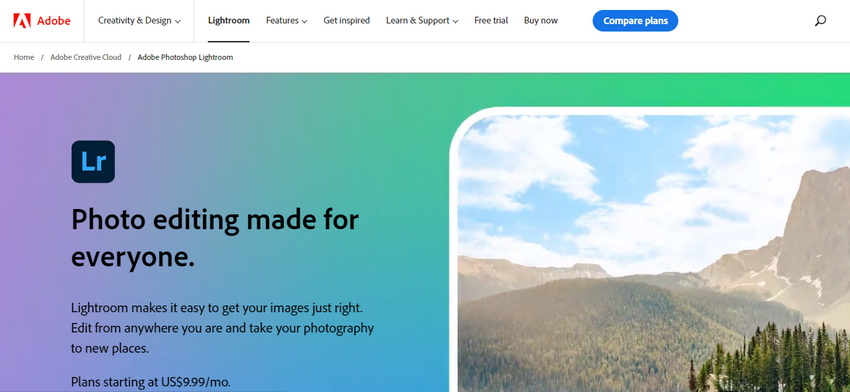 3. PicsArt
PicsArt is a versatile photo editing app that offers a wide range of creative tools and features. PicsArt provides a comprehensive set of editing tools, including crop, rotate, adjust colors, and apply filters. It also offers advanced features like double exposure, blending modes, and text overlays. Additionally, PicsArt has a vibrant community where you can share your creations, discover new editing techniques, and participate in challenges.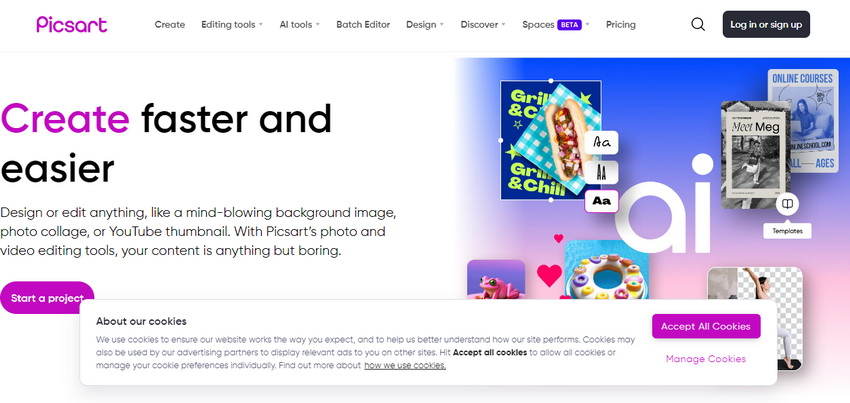 4. LightX Photo
LightX Photo is a feature-rich photo editing app that offers a wide range of tools and effects. It allows you to enhance your photos, apply artistic filters, and create stunning compositions. LightX Photo provides basic editing options like crop, rotate, and adjust colors, along with advanced features like selective editing, blending modes, and object removal. Moreover, LightX Photo provides a powerful background changer tool that allows you to replace or remove backgrounds from your photos.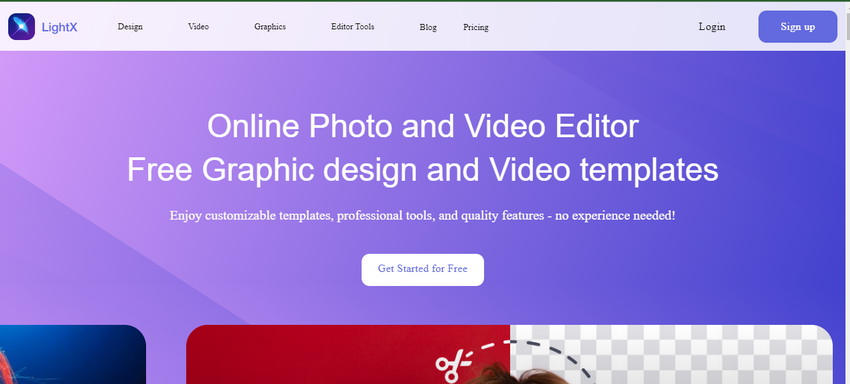 5. YouCam Perfect
YouCam Perfect is a popular photo editing app that focuses on enhancing selfies and portrait photos. YouCam Perfect provides basic editing options like crop, rotate, and adjust colors, along with advanced features like skin smoothing, face reshaping, and teeth whitening. The app also offers a variety of filters, stickers, and frames to add a creative touch to your selfies. Additionally, YouCam Perfect provides real-time selfie effects and beauty filters, allowing you to preview and capture stunning photos instantly.