Sony Mobile announced two LTE handsets: Xperia GX and Xperia SX, which are said to make a debut this summer in Japan. On the exterior, both Xperia GX and Xperia SX continue the delicate style. It is possible that Xperia GX will be launched as LT29i model and put into the international market, while Xperia SX will be promoted as the lightest LTE smartphone.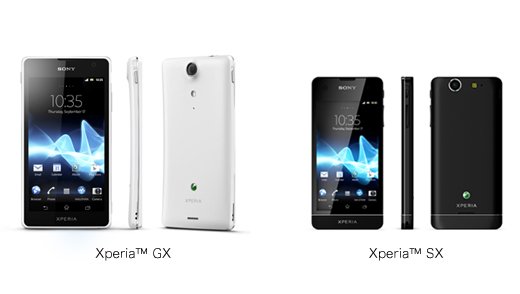 Xperia GX: arc-shaped, 13-million-pixel camera
Xperia GX is the first LTE-supported smartphone of Xperia series in Japanese market. Its connection speed can be as high as 75Mbps, with 4.6-inch HD screen and Mobile BRAVIA Engine technology is included. What worth mentioning is the camera function, it is equipped with up to 13-million-pixel Exmor R for mobile sensor that enables you to easily obtain even Full HD image. Walkman player is also included in Xperia GX. In addition, this smartphone stresses high-quality audio experience, covering Clear Stereo, Clear Bass, manual EQ and VPT surround sound, besides, xLOUD technology is supportable.
These music functions are almost the same with the international edition, but the Walkman program has not been named yet. In addition, the appearance design is a great characteristic of Xperia GX. Arc-shaped design makes it easy and convenient to be carried with and the ground material ensures perfect handheld feeling.
It is with 1.5GHz dual-core processor, Sony has not pointed out that this processor is the same Qualcomm S4 CPU of HTC One XL officially, but it will perform better than any of the existed Xperia series phones. This phone has 16GB of memory, 1GB RAM and 1700mAh battery. It will adopt Android 4.0 ICS system when it is put into the market.
Sony Xperia GX main specifications:
● Android 4.0 operating system
● Qualcomm Snapdragon S4 MSM8960 dual-core 1.5 GHz processor
● 1 GB RAM / 16 GB ROM
● 1280 x 720 4.6-inch Reality screen, support Mobile BRAVIA Engine technology
● 13-million-pixel rear lens, full HD video recording support
● 1.3-million-pixel front-facing lens
● 1700 mAh battery capacity
● Black and White for color options
● Expected to launch this Summer in Japan
Xperia SX: powerful specifications and contracted appearance
Bedsides Qualcomm Snapdragon S4 MSM8960 dual-core 1.5 GHz processor and 1GB RAM that are the same with Xperia GX, Xperia SX is also with 8.1-million-pixel main camera and 1.3-million-pixel front-facing camera. Firthermore, Xperia SX is the lightest LTE smartphone all over the world so far, with 95g weight and 115 x 54 x 9.4 mm compact appearance.
Sony Xperia SX main specifications:
● Android 4.0 operating system
● Qualcomm Snapdragon S4 MSM8960 dual-core 1.5 GHz processor
● 1 GB RAM / 8 GB ROM
● 960 x 540 3.7-inch Reality screen, support Mobile BRAVIA Engine technology
● 8.1-million-pixel rear lens, full HD video recording support
● 1.3-million-pixel front-facing lens
● 1500 mAh battery capacity
● Black and White for color options
● Expected to launch this Summer in Japan
Enjoy DVD movies on Xperia series smartphones guides you may
How to convert DVD to Xperia Neo/Neo V to play DVD movies on Xperia Neo/Neo V need:
How to convert DVD to Sony Xperia sola to play and watch DVD movies on Xperia Sola
How to rip and convert DVD to Xperia Ion video to watch DVD movies on Xperia Ion freely
How to rip and convert DVD to Sony Xperia S video to play DVD movies on Xperia S unlimited