The new generation mobile operating system iOS 6 is finally released by Apple during Apple WWDC 2012. Brand new built-in 3D map and Siri Chinese voice input functions are integrated in this new operating system. The devices it is compatible with including iPhone 3GS, iPhone 4, iPhone 4S, iPad 2, iPad 3 (the new iPad) and iPod Touch 4.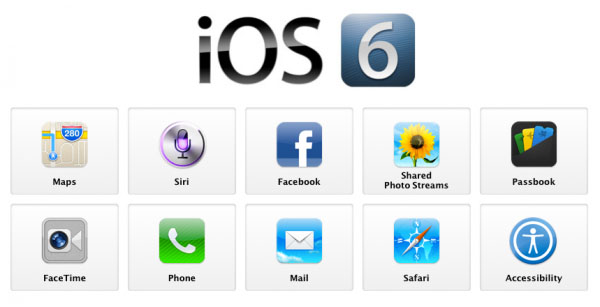 Brand-new 3D Map App
The new Apple map application is based on vector drawing which is quite similar to the new map Google released last week. It supports rotation, zoom, satellite 3D live view and 3D modeling view. Within 3D imaging map, it supports gesture zoom and revolving, you can either have a bird's-eye view of the city panorama from different angles, or have a 360-degree browsing on a single building. In addition, Siri is added to this new map. It provides real-time monitoring on traffic flow and it is with 1 million business information and information card display.
Support Siri Chines Input
Within iOS 6, it supports languages from 15 different countries and regions. For Asia, Korean, Mandarin, Cantonese, Taiwanese are added. Seen from the live demonstration, the new Siri has connected to China LBS database, supporting to search for related business information. Besides iPhone 4S, the new iPad is added to Siri list as well.
In addition, Siri also provides database of sports, shops, restaurants and movies. Another new feature is Eyes Free. It needs cooperation with car manufacturers. Siri button can be installed in the car interior, for example, on the steering wheel. Through this you do not have to look down at your phone and touch screen to fulfill Siri activation when driving a car. There has been a car manufacturer promising that this function will be installed to car within the following 12 months.
China Localization Custom
iOS 6 is similar to Mountain Lion that integrates Sina Weibo. It can share photos and other data to website with one key. This function is similar to the existing Twitter. As to search engine, Baidu, Youku and Tudou video sources have been added to.
Safari Function Upgrade
Safari is remarked by Apple as "The most popular and the best browser globally". This time there are some function upgrades on Safari.
● Added iCloud tabs which support offline list reading.
● Supported image uploading via website end, image thumbnail will pop up after clicking on "View", you can choose to upload what you want.
● Supported full screen website browsing under landscape mode.
● Intelligent software pop-up window: you can search for related applications based on the current web page, and apps will be presented at the top.
Photo Flow Sharing Support
iCloud can automatically save up to 1000 photos, but it does not support photo sharing. In iOS 6, only by simple clicking on the share button, you can share any photo to you friends. And your friends will receive notice, the photos shared will appear in his photo collection as well, comment is supportable. Photo flow is no longer a simple memory function, but also with social concept. And if the latest Mountain Lion is employed by your Mac, you can also fast share these photos to iPhoto and other image processing software.
FaceTime with Operator Network Support
Finally, iOS 6 FaceTime supports operator network. Before this, FaceTime only supports video call under Wi-Fi, you must jailbreak to install third-party plugin to realize 3G network mobile video call.
Text Message to Make Phone Unanswered
It is quite common to see this function in smartphones from other platforms. This function is first added to iOS 6 this time. Within the calling interface, you can get to the Refuse option by dragging the unlock bar upward. In addition, there a reminder setting to remind you of the missed call after you arrive at or leave somewhere.
Do-not-disturb Mode
When this mode is on, the new message coming in will not light the screen or ring the bell. You can set a fixed time period, for example, from 12P.M. to 6 A.M., the do-not-disturb mode will turned on automatically at that time. If you are worried about missing phone call with this mode turned on, iOS 6 provides you with Repeated Calls. If two calls are made within 3 minutes, the telephone will ring then.
Passbook
Information including movie tickets, coupons, boarding pass etc. are integrated in Passbook, in the form of dimensional barcode, which is convenient for scanning.