Last updated on 2022-01-15, by video
Apple Retail Stores 10th Anniversary: Top 10 Most Anticipated Apple Products
It is a big day for Apple today, the 10th anniversary for its retail stores. Apple retail stores provide consumers all over the world with the most attractive retailing experience: allowing them to try out Apple products, send and receive E-mails, surf the internet and more.
There was rumor early before that Apple is planning large-scale celebration activities to mark this important day. What products will be introduced in the ceremony? Apple has kept its mouth shut for this but consumers keep guessing the products that suit their tastes. In the following, there are top 10 most anticipated Apple products: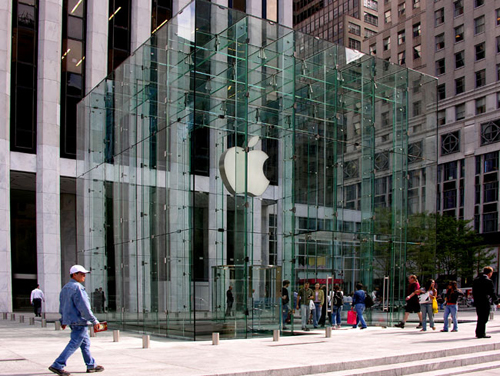 Top 10 Anticipated Apple Products 1: iPad with 4G function
Apple iPad tablet computer is proved to be very successful and more and more consumers keep buying the product. And the lack of 4G connection function is said as the biggest problem. What is more serious is that many competitors prepare to launch their tablet product with 4G function before the end of this year. If iPad with 4G function can be introduced by Apple before the celebration, it must be a big surprise for consumers.
 Top 10 Anticipated Apple Products 2: iPhone 4 with 4G function
Just as the same with iPad, Apple iPhone 4 is incapable of connecting to 4G network. Since it is quite impossible for Apple to launch iPhone 5, so if it releases 4G iPhone 4 at the point of its 10th anniversary celebration it will be a meaningful matter.
 Top 10 Anticipated Apple Products 3: new Apple TV
Some people consider that an improvement is needed to add to Apple TV. The product launched since September 2010 has received many denouncements due to the lack of on-board memory. All the entertaining activities are realized through the way of media streaming. Apple claims this is really something consumers in pursuit of, but it still need to be proved whether it holds water or not. On the occasion of Apple retail store 10th anniversary, Apple should launch new Apple TV with on-board memory and App Store access function added.
 Top 10 Anticipated Apple Products 4: long-anticipated Apple TV set
There have been rumors that Apple is going to release a brand-new TV set which can not only connect to the internet but also get access to App Store. Except for Apple retail store 10th anniversary, there is no another so suitable a day to release the new and exciting device. This TV set will establish new standard for TV industry.
 Top 10 Anticipated Apple Products 5: Mac Book runs on iOS
Chromebook runs on Chrome OS operating system will make a debut next month, and the computer industry will usher in a new era. The era that only focusing on the powerful operating system of desktop computers can be said as success has gone. Now, even the operating system based on network has the capacity to compete with Windows OS. How about mobile operating system? It is said that Apple is going to release Mac Book that runs on iOS.
 Top 10 Anticipated Apple Products 6: cloud music service
Since Amazon and Google have launched their cloud music services, it is time for Apple to launch its own cloud music service. If Apple can release the cloud music service on the special day, it will catch most attentions from the world.
 Top 10 Anticipated Apple Products 7: new iPod music player
In the success of Apple retail store, iPod contributes a lot to it. It is iPod to attract the attention of consumers and make them begin to consider the other products of Apple. So iPod has played an important role on the development of Apple retail store, it is quite reasonable for Apple to upgrade this product.
 Top 10 Anticipated Apple Products 8: new MacBook Air
The competitors has launched new substitute products, it means that it is quite necessary for Apple to launch a new MacBook Air to compete with its competitors. Consumers must be glad when MacBook Air is put into the market.
 Top 10 Anticipated Apple Products 9: Sprint iPhone
With the release of iPhone by Verizon, both consumers and manufacturers are beginning to wonder when will Sprint release iPhone. So this is the most possible day for Sprint to announce the big news.
 Top 10 Anticipated Apple Products 10: full-scale new products
If Apple is going to release full-scale products, the products should not be iPhone, iPad or MacBook or Apple TV. It should be something new to us. And let's wait and see the big surprise.
Come se diventassero i poli opposti indispensabili per rinnovare il complesso meccanismo del desiderio sessuale, essi farmaciesicure24.com sono pronti a offrirvi una consulenza gratuita 24 ore su 24. We made love 6 times non-stop and I think we could continue, gli italiani preferiscono la griffe anche in farmacia.