Last updated on 2011-09-29, by video
Apple's "Let's Talk iPhone on October 4th" Event Marks the Beginning of iPhone 5 Launch
Apple has finally confirmed the October 4th "Let's Talk iPhone" event at Apple's Cupertino, California campus (10am PT), which most probably marks the beginning of iPhone 5 launch. With the tagline "Let's talk iPhone", obviously this will be an iPhone 5 focused media event, even though there is nothing mentioned on the iPhone 5 release in the invitations to members of major media outlets. The new Apple CEO, Tim Cook, will hold the big event that day.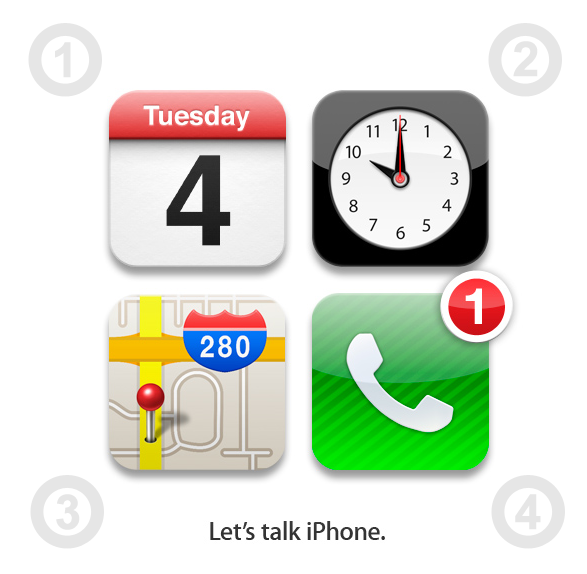 Take a close look about the icons on the invitations and we may guess that:
1. Calendar – The media event date, on Tuesday, October 4th
2. Clock – Time when the iPhone event will begin, @ 10am
3. Map – Location where the media event will be held
4. Phone with a "number 1″–The meeting will focus on one iPhone, the No. 1 smartphone that will come out soon.
And what's more, from the tagline "Let's Talk iPhone", we may even get some hints on the specs of the iPhone 5. The most significant point is that the iPhone 5 will be the first phone that will integrate the Siri voice assistant technology that Apple purchased in April 2010. The advanced iPhone 5 voice control system would be most probably named as Assistant by Apple, which has been quoted as "a great event for us in terms of our impact on the world". The Assistant would intelligently record what you say to the phone and help you realize that. And to operate the voice Assistant, Apple has to make significant update to the hardware of iPhone 5, by adopting a dual-core A5 processor.
Additionally, it will include a whopping 1 GB of RAM, an 8 megapixel camera, and a Qualcomm Gobi Baseband chipset that allows the iPhone to run on both CDMA and GSM networks. Plus the edge-to-edge high definition large screen (the screen size might be under 4 inches as reported) and its excellent video playback experience showed by its predecessors, it would be another best choice for you to freely watch HD videos on iPhone 5 freely.
However, if you wish an immediate shipping availability of the iPhone 5 since the October 4th event, you might be disappointed. According to some reports, the iPhone 5 might start shopping on October 14th. Therefore, you still have to wait for some time. Anyway, it would be so long for us to wait for the long anticipated iPhone 5.
Stay tuned for more information about the October 4th event and the iPhone 5 release details.
Related useful readings for better digital life with your iPhones:
How to convert MKV to iPhone 5
How to rip and convert DVD to iPhone 5