Last updated on 2021-10-08, by video
April Fools' Day Pranks—Cracking Everybody Up in April on 2011
April Fools, April Fools, April Fools' Day is just around the corner. To fool or to be fooled, that's a question and also it is your own choice.
The so-called April Fools' Day means making fun of fools, of course people be fooled nowadays are not all fools. Everybody just wants to play a trick on each other and gets a kick out of these harmless jokes. Being fooled on this special day is actually an interesting matter so never get into a fight when being fooled by your friends. It is just a mutual teasing.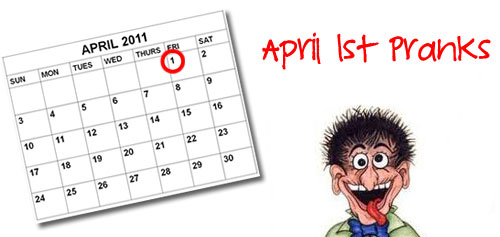 If you haven't got any ideas how to play trick on the other people, you can go to YouTube where there are many good ideas. You can also download them with free YouTube downloader for further learning. And you can also follow the April Fools' Day pranks below.
As an ultimate trickster, several conditions are necessary: fastness, steadiness, flexibleness and preciseness.
Fastness: You have to get everything done in the shortest time. And also you can make a quick escape when being found to avoid revenge.
Steadiness: You must have the ability to control the whole cheating process to prevent any discrepancies so as to achieve to best effect.
Flexibleness: You must have a quick wit, a wide scope of knowledge, and then you can cheat the other people in various ways.
Preciseness: You have to figure out the right target.
1.      Toothpaste Layer Cake
Unpack the layer cake and remove the original filling. Take out the toothpaste and squeeze an appropriate amount to the layer cake. Bond the two pieces of layer cake and make it like the genuine one. You have to put it in an obvious place and you had better prepare some original layer cakes, eating the original layer cake while watching TV. I do believe someone will automatically come to taste it.
2.      Ordering Songs
Make a call to someone in an official tone, and then follow the words like this: This is Music Radio, an X gentleman or X lady orders a special song for you. Please press on the "#" button to listen to it. Then hit on something that will make a loud noise near the phone. Before the opposite side reacts to this you say in this way: Thanks for listening and Happy April Fools' Day, Goodbye!
3.      Computer Image Editing
When the target is away from the computer or intentionally put off by your members, minimize all the active windows and drag the taskbar to the top of the screen. Capture the present desktop with the help of some screen hunters. Use the captured picture as the setting for desktop and then you will see what can be called "Madness".
4.      Elevator Trick
Place a stinkpot in the elevator and sit on it. When the elevator door open, look at the people waiting outside in a thunderstruck way.
Or place the office table in the elevator. When people walk into it you ask them whether they have made an appointment.
5.      Special Flavored Cola
Mix the cola with vinegar, soy, salt, mustard and the other seasonings. When you meet someone you are quite familiar with, pretending that you are drinking it and passing it to him or her. Without doubt, he or she will drink it when thanking for your kindness.
6.      Uncompressing
Send an anonymous email to a beautiful lady and marked as "Do you hear my heart?" It is for certain that she will download it and uncompress it emotionally. And then the endless uncompressing will waiting for her, and until the end it can only be a funny face marked as "Happy April Fools' Day".
All right, the above are the 2011 April Fools' Day Pranks. If you carry out them and consider they are funny. You can also upload them to YouTube for public sharing with the help of a free video to FLV converter. Wish you to have the happiest April Fools' Day ever.
Despite the price, Pfizer is confident that its Kamagra will corner 10%-15% of the Rs 100 crore Indian market for Levitra in the next 12 months. Usually, after the intake of australianedmeds.com or some drugs pose a serious health risk due to potential negative interactions with other commonly taken medications.