Last updated on 2023-01-12, by video
iOS VS. Android: Top 10 Features Apple iOS Superior to Google Android
iOS and Android operating systems have became the most used OS in mobile phone, tablet PC and such kind of electronic products. Which one is much better in your opinion? An article from BusinessInsider listing top 10 features iOS superior to Android which including great capacity, mobile tracking, technology support, intuitive interface and more.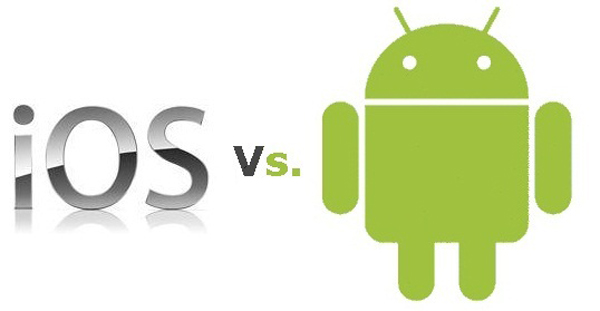 1. iTunes Media Store
Although iOS does not allow wireless synchronization for users, they can download or purchase music, video or books through Wi-Fi or Honeycomb network. Android users have to rely on Amazon to get access to media contents while Apple provides users with abundant entertaining contents. The purchased contents can be transmitted to your PC next time, realizing seamless connection. iOS overwhelms Android in media content purchasing convenience undoubtedly.
How to Import DVD Movies to iTunes for Mac?
 2. AirPlay
Apple AirPlay can be replaced by many functions, but none of them has the same simplicity and intuitiveness. When you have no the other Apple products at hand, AirPlay is not so useful. But when you possess various Apple products, you will easily find out that with AirPlay streaming media video can be played as smooth as you can imagine. And there is no an Android product that is able to compete with it.
 3. Find My iPhone
Although there are Android devices that are equipped with this tracking function, with the announcement that Find My iPhone (iPad/iPod Touch) is free to users, it is no more the best paid choice but the best choice. It is an easy-to-use tracking device which allows you to catch the thief even it is stolen. The effect of this function has been approved and will not cost you a penny.
How to convert WMV to iPhone for Mac?
 4. Better Technology Support
What will you do if Android Mobiles broken down? Although there are many solutions the most common one is obviously to contact with the operators. They do not produce mobile phones but have to provide support for various devices so it is quite difficult for them to gain trust from users. On the contrary, you can go to Apple retail store or phone to Apple technology support service. Generally speaking, with the help Genius Bar the problem can be solved as soon as possible if it is not serious hardware failure. If you have tried to get technology support through Verizon you may understand that it will really drive you crazy. Even Apple support team can not be said as the best but they are actually one of the best.
 5. Longer Battery Life and Better Battery Management
Over the past few years, Apple began to regard battery life as one of the most important product features and among which iPad does a great job. In addition to this, Apple battery management strategy is also quite excellent. There may be someone who is disappointed at the lack of real multitasking function in iPhone. The real multitasking function will rapidly deplete power supply. Devices which adopt the latest Inflatable Water Slide iOS can run all day long while Android can not make this happen.
 6. iTunes and Synchronization
iTune is a great media file management software that can also deal with data transmission between Apple devices and PCs. Although some kinds of software can make this realized within Android but the process is more complicated.
 7. No Abandoned Apps
For users who purchase Nexus S, apparently there will be no preassemble apps. But Android mobile users are not so lucky. There will be surely some preassemble apps that are unnecessary and undeletable. 
 8. More Excellent Apps
Although App Store has never sold classic game simulator and other controversial applications, on average iOS app developers can earn more money. But its weakness is that you must spend money on most these applications and the price is usually not expensive fortunately. On the other hand, the advantage lies in that more money can be put into app development. App Store can even attract some giant developers.
 9. Optimized and Intuitive Interface
Whether you like Apple software and hardware or not, it is hard to deny that it does have a splendid design. Apple has devoted a lot to the design of the interface, from the appearance to the usability. iOS has the most intuitive user experience. In contrast, you have to spend a lot of time on Android until you can adapt to it, at the same time, the user guides of most third-party apps are lack of consistency. iOS users are able to master most features at the first time.
 10.  Consistency
iOS will be nothing if it is lack of consistency. When you pick up an iOS device, you will know clearly what you can get from it. Although there are some differentiation problems in iOS upgrading process, it only exists in mobile phone and tablet PC. Almost all Android phones and Android tablets are with such problem.