Last updated on 2012-01-07, by video
iPad 3 Is Coming Now: iPad 3 Rumors & Features
It is believed that people are looking forward to the upcoming of iPad 3, with the expectation of better display screen, faster processor and more powerful battery life ability, etc. In the following there are a collection of iPad 3 rumors.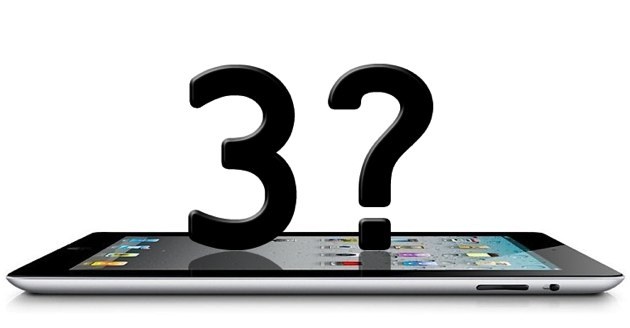 ● HD Retina Display with Higher Resolutions
It was highly anticipated even before the release of iPad 2, and now we believed that Apple will now let us down this time.
● Quad-core Processor with Faster Speed
The most exciting part in the update from iPad 1 to iPad 2 lies in the processor upgrade, so it is for sure that we can a faster iPad 3.
● More Powerful Battery Life Ability
It is reported that the battery endurance of iPad 3 will be two times of iPad 2, which of course marked as the essentials for supporting better display and faster processor.
● Thicker than iPad 2
If the above three aspects with no problems, iPad 3 will be a little bit thicker than iPad 2.
● iPad 2 with Lower Price
iPhone 3G is sold at a reduced price after the debut of iPhone 3GS and iPhone 3GS is with the same rule after the release of iPhone 4. So it is reasonable that iPad 2 will lower its price when iPad 3 comes out.
● Make a Debut in February 2012
According to reports recently, iPad 3 will make a debut in February. And some reports even predicate the specific date on February 24, the birthday of Steve Jobs.
● iPad mini
The discussion on iPad mini never ceases. Maybe it will come to the public sometimes in the near future, but it is quite impossible that it will be released with iPad 3 at the same time.
● Support 4G LTE Network
LTE network has its superiority, so Apple may take iPad 3 as an experiment by providing a LTE version, so as to make preparation for iPhone LTE version.
● Two Modes iPad 3
There is also rumor that iPad 3 will have two modes, and the difference lies in that one is with 5-million-pixel camera and the other is with 8-million-pixel.
Read More:
How to convert Blu-ray movie to iPad?
How to convert DVD to iPad?