Last updated on 2011-08-09, by video
iPad Supported: Google Has Unveiled Google+ iOS Upgraded Version
On Monday, Google has unveiled the upgraded version of Google+ iOS with iPad support function. The latest version of Google+ was the latest update since Google has launched a series of updated software at the end of June. These constant updates will drive the rapid increase of Google+. It has had more than 25 million users over a month.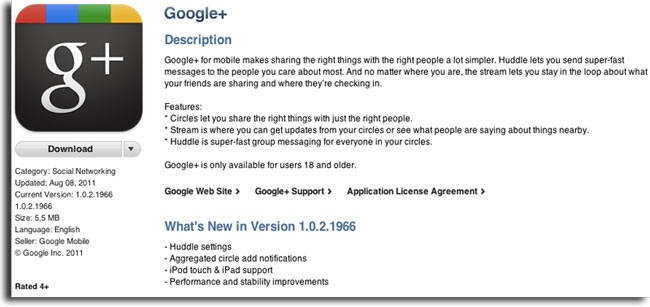 Except the functions of iPad support and defects repairing, the new version iOS always provides some updates to common users of iOS. what the most attractive is that  some new functions have been added to the free mobile chat function "huddles" of Google+; In the applying of the new version, users can hide "huddles", set the permission of your chat buddies and start the new functions of "huddles" on configuration tab.
Google+ has been criticized for the reason that it lacked of the iOS application when it was launched for the first time. However, Google promised that it has submitted the application program to Apple to authorize .The iPhone application program that was used in Google+ service has went in public in the middle of July. Google + increases rapidly in the free application ranking list of apple stores. At present, Google has added the function of iPad and iPod Touch support with the aim of new version software.
Read more:
How to convert Video to iPad 2?
How to enjoy HD Video on iPad 2?
How to transfer and convert Video to iPad 2 on Mac?
How to convert HD videos to iPad/iPod/iPhone?
How to convert YouTube video to iPod video?
How to download YouTube video for iPod?
How to convert video to MP4 for iPod, iPhone, Apple TV for Mac OS users?