Last updated on 2012-04-05, by video
Lumia 900 VS. Galaxy Nexus VS. iPhone 4S: the Winner Goes to?
Nokia, Microsoft and AT&T have put a large amount of money to Lumia 900 so it can be said as a big gamble. But when being compared with Samsung Galaxy Nexus and Apple iPhone 4S, who will be the final winner?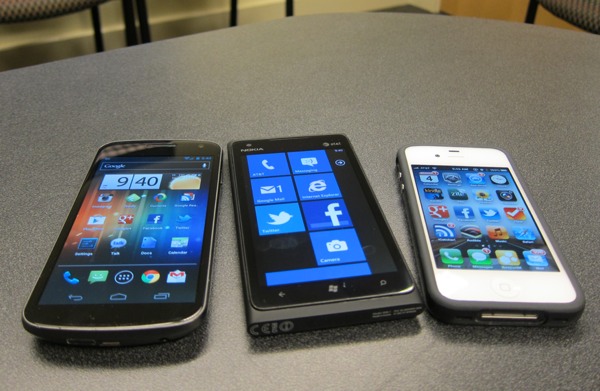 Lumia 900 is equipped with single-core 1.4GHz Qualcomm Snapdragon S2 processor, 512M RAM, 16GB flash memory space, 4.3-inch AMOLED display (800 x 480), 802.11 b/g/n WLAN and Bluetooth 2.1 +EDR support, 8-million-pixel rear camera and 1-million-pixel front-facing camera.
In the following, there are interior configurations of Lumia 900:
● 1.4 GHz single-core Qualcomm Snapdragon S2 (APQ8055) processor (with Adreno 205 GPU)
● Elpida B4064B2PD-6D-F 2Gb LP DDR2 DRAM (512 MB)
● 16GB NAND flash chip
● Qualcomm MDM9200 3G/4G wireless modem
● 4.3″ AMOLED display (800 x 480)
● 8MP rear-facing camera
● 1MP front-facing camera
● 3.7V, 1,830 mAh Li-Ion battery (BP-6EW)
● Atmel mXT224 touchscreen controller (MXT-N0K1 CCU-1R0 1G3818B)
● Unknown A926 T44V 10MUCP 8F1586
● Unknown PPGC TI 1B1 A7L8
● Broadcom BCM4329 Low-Power 802.11n with Bluetooth 2.1 + EDR and FM (BCM4329EKUBG)
● Qualcomm PM8058 power management IC
● Qualcomm QTR8600 RF Transceiver (QTR8615L ACV313.0 H41470A7)
● Avago ACPM-7868 Power Amplifier Module Linear Quad-Band GSM/EDGE
● COPAL C17 A1 6800058
● SMSC USB2512B USB 2.0 Hi-Speed Hub Controller
● Unknown AGD2 2135 LVPET
● Qualcomm PM8028 power management IC
● A5005 K1143 0AGHVY
● A5017 Kee47 ECO44
● A5001 K1150 0A6SKH
● A5002 K1144 0AGJZ3
● TDK-EPC QRF3001F 151158-48B
Comparisons:
● Seamless polycarbonate shell
Lumia 900 employs seamless polycarbonate shell as Lumia 800 which looks quite firm.
● Bigger and heavier
Lumia 900 is the same with Galaxy Nexus in Length and width, but it is the heaviest and thickest one among the three.
● Excellent structure plus exquisite turn-on mode
Lumia 900 is with top-notch quality and delicate design, and it is quite easy to turn on this phone.
● Screen display
Lumia 900 is equipped with 4.3-inch 800*480 display and up to 217 PPI, which is far behind Galaxy Nexus and iPhone 4S.
● Single core
Lumia 900 adopts single-core 1.4 GHz Qualcomm Snapdragon S2 processor, Galaxy Nexus employs dual-core 1.2 GHz TI processor and iPhone 4S is equipped with Apple dual-core A5 processor. Seen from the data, Galaxy Nexus occupies a leading role. But it depends a lot on the operating system.
● Less flash versions
Comparing to its competitors, Lumia 900 has a 16GB version while Galaxy Nexus has 16GB, 32 GB versions and iPhone 4S has 16GB, 32GB and 64GB versions.
● Shorter duration time
Lumia 900:7 hours
Galaxy Nexus: 12 hours
iPhone 4S: 8 hours
Summing-up
Compared with Samsung Galaxy Nexus and Apple's iPhone 4S, the mononuclear processor and low resolution screen are the weak points of Lumia 900. But there is no doubt that Lumia 900 is currently the best phone under WP, with performance equaling to the other two mobile phones.