Last updated on 2012-08-13, by video
N-Gage Made a Recurrence, WP8 OS Nokia Lumia X Leaked
There is no suspense that Nokia will launch new phone running on WP8 system in September, but what kind of phone model it exactly is will be still a riddle. Currently, oversea media information claims that a new Nokia Lumia X will be released in September. The main characteristics of it: 8-million-pixel rotatable lens, with N-Gage game coming back.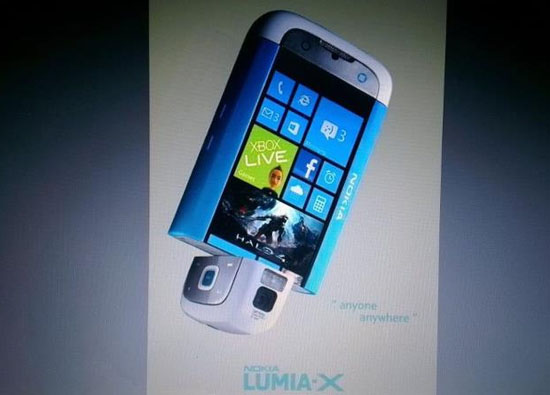 The appearance of Nokia Lumia X is almost the same with Nokia 5700, which is quite disappointing. Even so, there are something unique within Nokia Lumia X. For example, there is a button on the top for gaming exclusively, after revolving the phone the button for music only can be used.
HD Touch Screen
Nokia Lumia X has fairly excellent hardware configuration: HD AMOLED CLearBlack touch screen, Windows Phone 8, Qualcomm Snapdragon S4 processor (MSM8260A), 28-nm Krait architecture, and integrated Adreno225 graphics processing chip. The performance will be five times as fast as the current Snapdragon processor, and the graphic processing ability will be four times as the present one.
Of course, the highlight of this mobile phone will be the 8-milion-pixel Carl Zeiss rotatable lens. At the same time, the classical game N-Gage will also make a recurrence, the game data will be stored in Nokia lab.
Release in September
According to rumors, Lumia X will be available in September. And based on the previous statement, the two WP8 new models will be Nokia Lumia910 as well as Lumia920. If Lumia X does really exist, it is probably be Nokia Lumia910.
And according to the current situation, the outstanding feature should be the new WP8 OS as well as Qualcomm dual-core processor. In addition, PureView technology can be introduced to the shooting function.
In any case, WP8 Nokia phone will be released in the upcoming Nokia World Congress held in Helsinki from September 5 to 6, 2012. Let's just wait and see.
Media fun with Nokia Lumia series phones:
Download Videos to Lumia 900 from YouTube
Save Video from YouTube to Lumia 800
DVD to Nokia Lumia 710 480P video for free playback