Last updated on 2022-12-16, by video
Samsung Galaxy Neo Is Going to Make a Debut
The great success of Samsung Galaxy S has driven Samsung release up to six and more Galaxy series mobile phones successively. But it seems not enough for Samsung and recently it is reported that a new Samsung Galaxy Neo is going to bouncy castle for sale make a debut soon.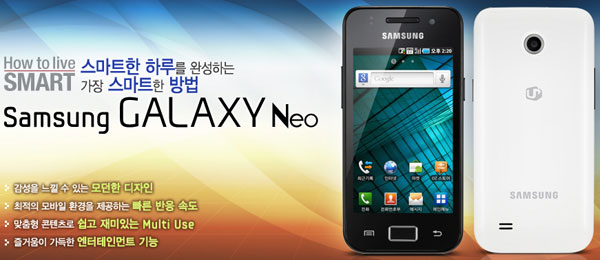 It has some similarities with the released Samsung Galaxy Ace in specifications. It runs on Android OS 2.2, adopt 3.5-inch screen and 800 MHz processor, support WiFi, DivX, GPS, Kies Air, 3.5 mm headset jack and microSD extension. But the screen resolution and battery capacity has improved to 800×480 and 1500mAh respectively, and the camera will drop to 3-million pixels simultaneously. It can be remarked as the enhanced version of Samsung Galaxy Ace. Galaxy Neo is expected to make a first launch in South Korea.
Read more about Samsung Galaxy:
How to Play DVD Iron Man 2 on Samsung Galaxy S?