Last updated on 2012-03-08, by video
The New iPad Event Sum-up: iPad 3/iPad HD IS Beyond the Expectation
Apple issued The New iPad today in San Francisco, main technical parameters are as follows: Retina display, resolution 2048 x 1536 ratio, quad-core A5X chip, 3.1-million-pixel front-facing camera, 5-million-pixel rear camera, 1080 P video support, 4 G LTE high-speed network support, 9.4 mm, weighs 635 grams, 10-hour battery life, 9-hour under 4 G. The WiFi version sells at $499 or above, and additional $130 will be added to the 4G version. It will be put into the market on March 16, China HK is included.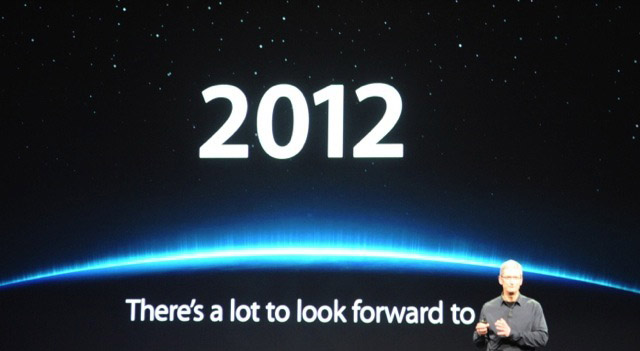 iPad which has reached 15.4-million-unit sales result in the fourth quarter last year receives great concerns. Today in San Francisco Apple new CEO releases the new iPad with significant performance improved while the price will be identical with the previous iPad 2. This new iPad is not given a product name, neither iPad 3 or iPad HD, even until the end of the iPad launch event Cook calls it as "the new iPad".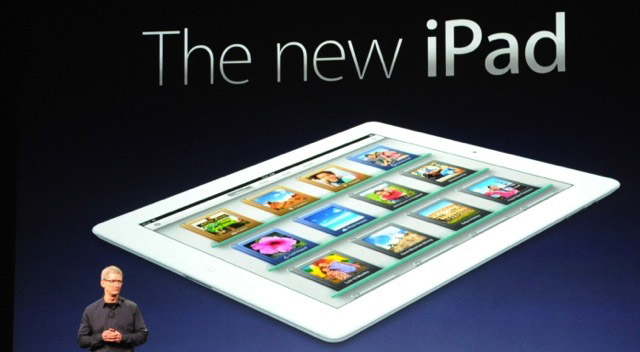 What different from the speculation is that the new iPad does not give up the Home button and is without 3D display support. Siri is not transplanted to the new iPad fully. What consistent with the rumor is that the new iPad adopts quad-core A5X processor and employs 2048 x1536 HR Retina display. The new iPad is a little bit heavier than iPad 2.
Performance greatly enhanced & standby time remained
Apple global marketing vice president Phil Schiller explains this latest A5X processing chip: the graphics chip is covered in it, and it is a multi-core product with performance four times as Nvidia Tegra 3.
In display effect, high resolution brings 3.1-million-pixel display effect which exceeds the level of high-resolution television. So you can freely convert video to iPad for ultimate visual enjoyment. 1080p HD video recording function is included in the new iPad. The poor camera performance problem in iPad 2 has been greatly improved.
As to software, there are still many upgrades occurred in the new iPad which including six language input support, 4G LTE support and more. Apple will launch iPad versions with AT&T and Verison 4G network support respectively in the United States.
The weight of the new iPad will be increased due to the improvement on its performance. But Phil states that the new iPad standby time will not be reduced so it can achieve at least 9-hour standby time under 4G network.
With the same price as iPad 2 and iPad 2 is with $100 price off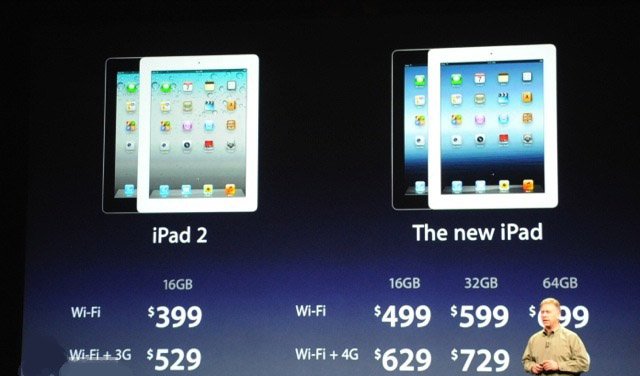 The price of the new iPad is the same with iPad 2 as expected, starting at $499. In addition, $100 will be cut off iPad 2. This is the usual pricing rule of Apple when there is a new product launch event. In the United States, the new iPad WiFi version will be $499, $599, $699, and the 4G version will be $629, $729, $829. The sales price is corresponding to 16GB, 32GB and 64GB model.
Sales start from March 16 in 36 markets
Apple has prepared a lot for the new iPad sales. Phil Schiller states that the new iPad will be put into market in 36 countries and areas simultaneously from March 16.
The New iPad Video Enjoyment Guides:
How to Convert AVI to iPad HD (iPad 3)?
How to Convert MKV to iPad HD (iPad 3)?
How to Convert FLV/F4V to iPad HD (iPad 3)?
How to Convert WMV to iPad HD (iPad 3)?