Last updated on 2012-02-04, by video
Top 10 iPad 3 Most Anticipated Features
Besides iPhone 5, iPad 3 is the most anticipated product. Here comes with top 10 most expected focuses of iPad 3 in the following. Take a look at it and see whether there is one feature you are looking for.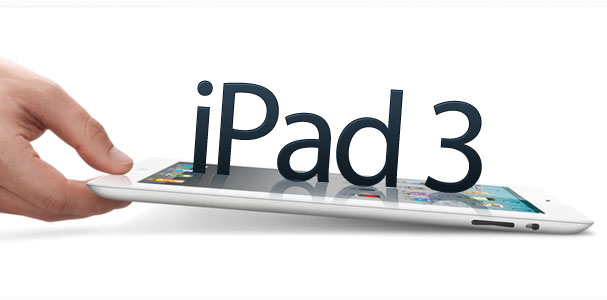 1. Design
It is quite possible that iPad 3 will adopt the same aluminum shell with iPhone 5 and iPod. But considering that Apple plans to make an improvement on its battery life, iPad 3 will not be thinner than iPad 2.
2. Siri Sonic Technology
As a revolutionary sonic technology, Siri has received hot attention since the launch of iPhone 4S. The market expects further perfect Siri language control technology so as to support Japanese, Chinese, Korean, Italian and Spanish when launching iPad 3.
3. NFC (Near Filed Communication)
The Near Filed Communication technology makes shopping payment, digital content exchange and online simple with just a touch. It is reported that Apple software engineer have developed software that enables NFC support on iPhone 5. Apple iPad 3 users will be able to enjoy wireless payment and accessible online payment.
4. Retina Display
iPad 2 release was not so satisfactory for it still adopted display with 1024 x768 resolution and 132 ppi. iPad 3 is expected to take the retina display with 2048×1536 resolution and up to 330 ppi by employing IGZO technology. Convert video to iPad 3 for enjoyment will be quite fantastic.
5. A6 quad-core processor
It is possible that iPad 3 will be equipped with AMDA6 quad-core processor so that an accelerated operating speed will be guaranteed. In addition, it also takes the new chip management software into uses, supporting dual-core A5 iPhone/iPad chip as well as quad-core processor. New processor is expected to use 1.2 to 1.5 GHz A6 quad-core processor, with more than 1GB RAM.
6. Battery
Compared to the previous Apple products, there is a great improvement on the battery of iPad 3 which aims to solve the most dissatisfied shot battery time problem. iPad 2 uses Li-Po 6930 mAh battery at present and iPad 3 will use 14,000 mAh battery in response to HD screen and quad-core processor electricity demand.
7. 4G LTE Connection
As more and more users looking forward to more excellent transmission speed of 4 G technology, Qualcomm has developed thinner LTE chip set to solve the problem of Apple reportedly. But the new LTE chip set will only go public in the second or third quarter of 2012 which may delay the iPad 3 release.
8. Facial Recognition Function
Apple has announced the plan to take facial recognition function as the main security measure of iOS devices and Apple have already applied for facial recognition technology patent. Consumers are expected to experience the new facial recognition security technology within iPad 3.
9. iOS 5
iOS 5 interface update will be conducted, carrying Notification Centre, iMessage, Newsstand, Reminders, Twitter, iCloud, Safari browser and PC free tool. There are as many as 200 functions included in iOS 5 exclusively designed for iPad, iPhone and iPod Touch.
10. Photography Function
iPad 3 may adopts 5-million-pixel or 8-milion-pixel camera, equipped with LED light, supporting 1080p HD video shooting.
How to convert Blu-ray movie to iPad?
How to convert DVD to iPad?