Last updated on 2011-01-06, by video
Download Videos from YouTube for Visual Enjoyment Anytime Anywhere Freely
Nowadays, video websites play an important role in network life. At the same time, the rise of network videos does really add to the enjoyment of life. Do you like the world's most popular YouTube video website? You must be deeply attracted by a variety of interesting videos on it if you visit YouTube frequently. Facing with so many awesome videos, have you ever thought that you should keep them entirely for appreciation at any time? If this is just what you are going to do but simply can not find out a good way to carry it out, just take a look at the following easy solution. I bet you will surely satisfy with it.
First a free YouTube Downloader is in need here. Here comes the star—YouTube Downloader which is a versatile tool designed for YouTube video lovers. It combines with the multi-functions of video downloading, video playing, and video playback & download accelerating even though it is totally for free.
How can you achieve to download YouTube videos with YouTube Downloader? The following simple steps demonstrated below will show to you:
1. Launch this free YouTube Downloader and enter the target YouTube video URL in address bar. And then navigate to the video playback page with your browser.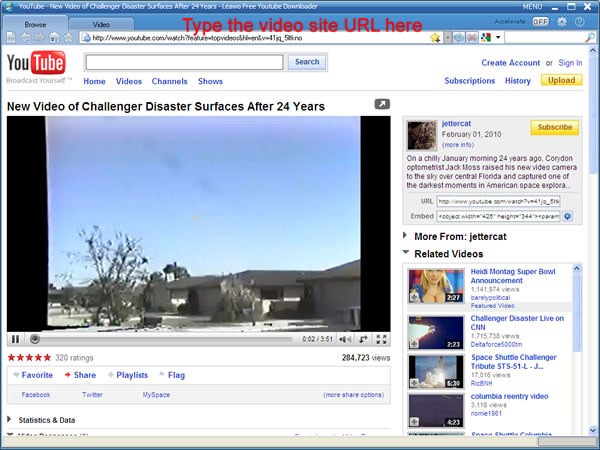 2. Click "Video" tab to check the video downloading information and do some video settings if necessary.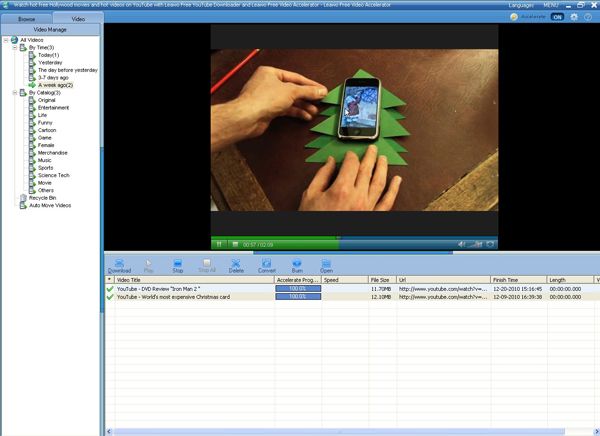 You can successfully download YouTube videos with the above simple steps. By the way, if you want to enjoy these downloaded YouTube videos on your portable players such as iPod, iPhone or PSP, etc., it is a really good opportunity for you to take advantage of this New Year Special Offer for you can pouch the corresponding video converters at a rather low price. I'm sure with such a series video converter such as iPod Video Converter, iPhone Video Converter or PSP Video Converter, etc., you can enjoy the YouTube videos anytime anywhere to full content.


So, my buddies, what are you still waiting for? Hurry up to embrace your favorite YouTube videos with the free YouTube Downloader. And by the way, pick up a goody from the ongoing New Year Special Offer to double visual enjoyment on your portable players.