Barnes & Noble has seen Amazon's plethora of Kindle Fire HD tablets and, potentially, raised the ante with a pair of new high-resolution, lightweight and affordably priced tablets: the Nook HD 7-inch and the Nook HD+ 9-inch.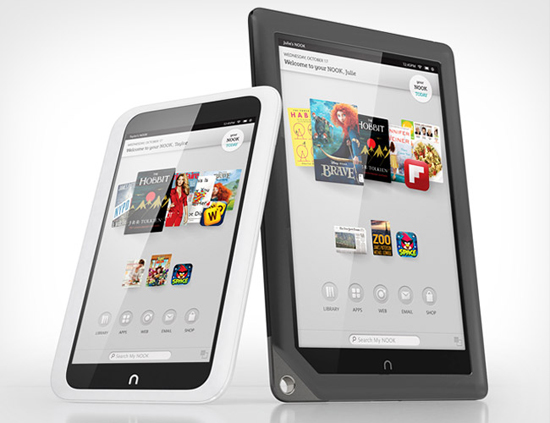 That's right, Barnes & Noble just stepped into Apple iPad territory.
The big-size tablets are priced at $269 for the 16GB model and $299 for 32GB, so Barnes & Noble is deeply undercutting Apple on price and even beating the recently launched Kindle Fire HD line. The 7-inch Nook HD will list for $199 for the 16 GB model and $229 for the 32 GB tablet. Both sizes include micro SD slots for memory expansion (up to 64GB) and come complete with their AC chargers. Amazon charges extra for the Kindle Fire 7's AC adapter. Both Nook tablets are Wi-Fi only.
Barnes & Noble even took a different approach to introducing the tablet duo: no public invitations, no splashy event (unlike the original Nook Tablet launch). Instead, the company invited Mashable up to a tiny downtown hotel loft in New York City to walk us through the reimagined 7-inch Nook HD tablet and completely new 9-inch Nook HD+.
The tablets include "HD" in their names because each features a high-resolution display that looks stunning at first glance. At 1,920 x 1,280, the HD+ resolution is slightly higher than 8.9-inch the Amazon Kindle Fire HD. Similarly, the 1,440 x 900 of the new Nook HD bests the 7-inch Kindle Fire HD and Google Nexus 7's 1,280 x 800 screens.
Like other new smartphones and tablets, these are laminated LCD panels that press together sensors and pixels (essentially removing air space) for a richer look both head-on and at 80-degree angles.
Nook HD VS. Nook HD+
The Nook HD is a 7-inch tablet running at 1440 x 900 and is capable of running 720p video. It uses a 1.3 GHz dual-core processor and includes a micro-SD slot and HDMI port. It comes snow or smoke; each color is available in 8GB for $199 or 16GB for $229.
The Nook HD+ is a 9-inch tablet running at 1920 x 1280 and is capable of full 1080p video. It runs a 1.5GHz dual-core processor with micro-SD slot and HDMI port. Barnes and Noble claims it's the lightest Full HD 9-inch tablet available at 18.2 oz (515 g). It comes in 16GB for $269 and 32GB for $299. It is only available in a slate color.