Last updated on 2012-01-11, by video
Focus on CES 2012: Samsung Galaxy Tab 7.7 LTE Coming out
At the International Consumer Electronics Show (CES), Samsung issued a series of products including the 7.7-inch tablet PC Galaxy Tab 7.7 LTE, notebook, ultrabook, flat-panel LED TV, camera and mobile equipment, all of which can achieve mutual connection through wireless content shared software. By introducing Galaxy Note mobile phone, Samsung expands its smartphone product line. Galaxy Note is equipped with 5.3-inch HD Super AMOLED display and will run on mobile operators AT&T's LTE network. Last year, Samsung exceeded Apple and became the world's largest smartphone retailer.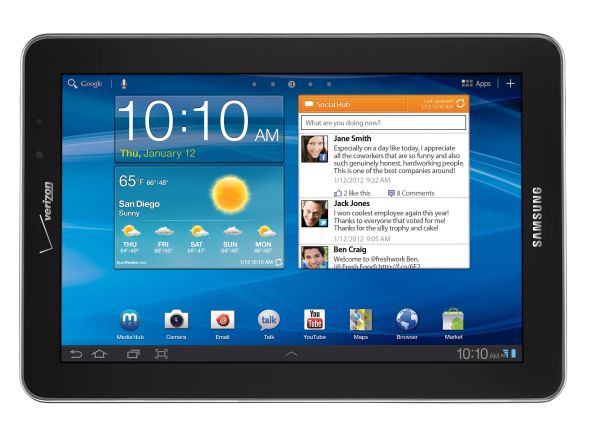 Samsung also displays 7.7-inch Galaxy Tab 7.7 LTE which supports Verizon Wireless 4G network. Galaxy Tab 7.7 LTE is also the first tablet PC Samsung released in the United States that is with Super AMOLED display. This tablet computer integrates infrared technology as well, and this will make this tablet PC as the remote control equipment for Samsung TV products.
Samsung American business vice President Todd Bouman said samsung also launched a new second generation Series 9 notebook to expand its PC products. Bouman stated that Samsung has rolled out two Series ultrabooks, one of which is equipped with 14-inch screen and and integrates the DVD driver. Samsung American business consumer electronic department President Tim Baxter showed the new ES8000 LED TV which is compatible with 3 D model, with a size from 46 inch to 65 inch. Senior vice President Joe Stinziano also displayed Samsung 55-inch Super OLED TV. This TV is with a dual-core processor, supports 3 D. This TV can give out light without color filter for the reason that every OLED pixel has its own RGB sub-pixel.
Samsung Galaxy Tab related guides:
How to Convert Blu-ray Movies to Samsung Galaxy Tab 8.9?
How to rip DVD to Samsung Galaxy Tab?
How to Convert Video to Samsung Galaxy Tab 8.9?
How to convert DVD to Samsung Galaxy Tab 8.9 on Mac?
How to Convert Video to Samsung Galaxy Tab 8.9 on Mac?