Last updated on 2011-08-18, by video
Google Plus VS. Twitter: Google+1 Will Defeat Twitter within One Year According to the Survey
According to the survey of Bloomberg and YouGov, the proportion of American adults who are using the latest networking services Google+ can be expected to be up to 22%, and surpassing Twitter and LinkedIn ,it can be the second largest social networking site ranks only second to FaceBook. In the meanwhile, survey shows that 30% users of Google+ and FaceBook are going to reduced hours on FaceBook, while 31% users of Google+ confessed that they have abandoned their accounts of FaceBook and have never posted on the website.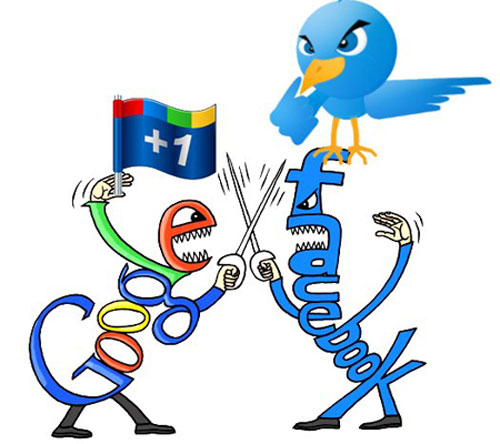 AS the survey shows, the proportion of American adults who have registered in Google+ has been to 13%, and it will increase by 9% within one year according to the predictions. In contrast, the proportion of American adult registrants on FaceBook will decrease by 2% to 69%. However, the proportion of Twitter users and LinkedIn users can be expected to increase continually (Twitter:3% and LinkedIn:2%), and their market share can be up to 20%.
During July 29th and August 2nd, it is a survey which aims at 1,003 American cyber citizens who are beyond 18 years old. The recent report of ComScore shows that there have been 2,500 users who are from all over the world have registered on Google+ after it has been lauched less than a month.
On the earnings telephone conference on July 14, the CEO of Google Larry Page pointed out that the SNS Google+ which was launched on June 28 has gotten warm responses from clients, and there are more than 10 million people have logged in it.
On June 7th, the Google Executive Chairman Eric Schmidt has made a speech on the Press conference of Allen & Co. He pointed out that the market still has space for a few social networking sites to survive; in the meanwhile, he expected to have a further cooperation with FaceBook and Twitter. He also stressed that online video chat is a famous item on Google website, especially for the younger users. The SDP of Google and FaceBook has come due recently, and both sides are still unable to reach a consensus on the new items of the contract. Besides, although FaceBook has proposed initiatively to let Google users input the files of Google users' friends, there are still no overlaps between both sides. Schmidt indicated that Google will try to expand the concept of "Circle of Friends" to other Google products (including search service and YouTube) if the trend is continually developing.