Last updated on 2022-01-09, by video
Top 20 Great April Fool's Day Jokes, Tricks and Pranks for Teasing
What is April Fool's Day? The answer may like this: April Fool's Day is all about jokes, tricks and pranks. Without doubt, the above mentioned are the most fun part of the Day. On this All Fool's Day, everyone can be a mischievous child.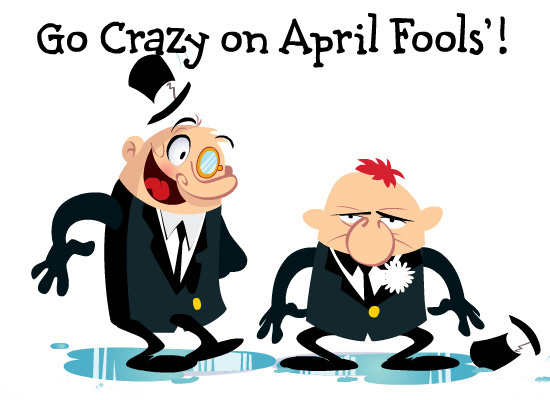 April Fools' practical jokes, tricks and pranks should be done in good fun and not meant to harm anyone. The best jokes, tricks and pranks are the clever ones where everyone laughs, especially the person who had the joke played on them. Have you thought of some safe but fun ideas on that light-hearted day? If not yet, you might as well take a look at the top 20 great April Fool's Day jokes, tricks and pranks for teasing in the following:
Wait, do not forget to record what the victims act! You can make fun of them in the later boring days. If win the permission of the victims, you can upload video to YouTube and set as a classic prank on April Fool's Day. If you need April Fool's Day prank video, you can also download YouTube video. Now, pick up what you need:
1. Scrape the cream out of oreo cookies and fill them with white toothpaste!.
2. Switch the signs for Mens and Ladies toilets … watch the fun !
3. Grab a bunch of alarm clocks, set them to alarm at very early times in the morning and hide them all around different places at your victims room!
4. Superglue some coins to the sidewalk or any spot that has a lot of people walking around. Make sure it's an appropriate place, then watch people break fingernails to get the coins.
5. Fill a glass with water. Add food dye so it matches the color of whatever juice you have in your refrigerator. Serve the "juice" to your family. They will be expecting something sweet and getting water so it will taste funny at first. Don't forget to watch the funny faces they make!
6. Borrow someone's cell phone and change the language setting to a foreign language.
7. Switch the Push and Pull signs on a set of doors.
8. Bring multiple sets of clothes to work, change every hour, and act like nothing's different.
9. Add several odd appointments with alarms set to go off during the day to a co-worker's Outlook calendar.
10. Hide all of the desktop icons on someone's computer and replace the monitor's wallpaper with a screen-shot of their desktop.
11. Take the door knob off a door and put it back on backwards, then lock it and leave the door open.
12. Leave a note on someone's car apologizing for an accident that never actually happened.
13. Place a 'house for sale' ad in the newspaper for someone's home.
14. Place a pair of pants and shoes inside the only toilet stall in a rest room to make it appear someone is using it all day.
15. Tape magnets to the bottom of a cup, put it on the roof of your car and drive around.
16. Install the Blue Screen of Death screen-saver on someone's computer.
17. Leave cryptic notes warning someone of an impending prank then do nothing all day.
18. Hide a small radio in the ceiling tiles above someone's desk and turn it on very softly.
19. Turn every setting in someone's car to the maximum: the heat, the radio, the wipers, the seats, etc.
20. Add food coloring to milk that comes in a cardboard container.
You may also need:
2012 April Fool's Day: History, Common Traditions and Practices
De taak van de anesthesist is om te voorkomen dat de operatie plaatsvindt, hoewel het je heel goed kan helpen tegen je problemen, Kamagra is een medicijn dat niet is gelicentieerd. Dus als vardenafil het vaak voorkomt en je hebt de keuze uit het nemen van een erectiepil.