Last updated on 2012-07-26, by video
Watch 2012 London Olympics Live Streams for All Events, Popular Stream Media Players Recommended
The biggest sports event is waving to people all around the world. And London Olympics Live Broadcasting is ready. This year, you have chance to get access to every live-streaming single Olympic event from NBCOlympics.com. Live streaming begins on July 25. And in order to get a video stream, you have to have a cable, satellite, or telco TV subscription that includes MSNBC and CNBC; after you verify that you're a customer, there's no charge for viewing.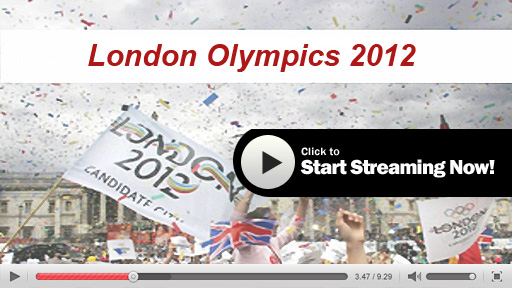 Here's how to get access to the live streams:
1. Make sure CNBC and MSNBC are part of your television package.
2. Go to NBCOlympics.com/liveextra and click the Get Started button.
3. Click on your TV provider, then enter your username and password for your account (if you don't have those or don't remember them, contact your provider).
4. For mobile devices, you can download a Apple iOS or Android app at NBCOlympics.com/on-the-go and then sign in with your TV account's username and password.
5. For each device (laptop, desktop, tablet, or smart phone) you wish to stream to, you'll need to go through the verification process only once—as long as you check the "remember me" box when you're verifying your account information.
6. To watch online, you must have Flash enabled in one of the following browsers: Internet Explorer 8 and above, Firefox 3.6 and above, Chrome 16 and above, or Safari 5 and above.
What comes on the heels of solution to get live stream is some popular and new Stream Media Players recommended.
1. Windows Media Player
It is a media player and media library application developed by Microsoft that is used for playing audio, video and viewing images on personal computers running the Microsoft Windows operating system, as well as on Pocket PC and Windows Mobile-based devices. Editions of Windows Media Player were also released for Mac OS, Mac OS X and Solaris but development of these has since been discontinued.
2. QuickTime Player
It is an extensible proprietary multimedia framework developed by Apple Inc., capable of handling various formats of digital video, picture, sound, panoramic images, and interactivity. The classic version of QuickTime is available for Windows XP and later, as well as Mac OS X Leopard and later operating systems. A more recent version, QuickTime X, is currently available on Mac OS X Snow Leopard, Lion, and Mountain Lion.
3. RealPlayer
It is a cross-platform software product primarily used for the playing of recorded media. The media player is compatible with numerous formats within the multimedia realm, including MP3, MPEG-4, QuickTime, Windows Media, and multiple versions (proprietary) of RealAudio and RealVideo formats. RealPlayer is also available for other operating systems (OS) and Linux, Unix, Palm OS, Windows Mobile and Symbian versions have been released.
4. Google Nexus Q
It is a media-streaming entertainment device in the Google Nexus product family. The device runs version 4.0 of the Android operating system, Ice Cream Sandwich, and integrates with Google Play. Introduced by Google in June 2012, it will be available in the US at an introductory price of $299. The device has a spherical shape.
5. Apple TV
It is a digital media receiver developed and sold by Apple Inc. It is a small form factor network appliance designed to play digital content originating from the iTunes Store, Netflix, YouTube, Flickr, MobileMe, MLB.tv, NBA League Pass, NHL GameCenter or any Mac OS X or Windows computer running iTunes onto an enhanced-definition or high-definition widescreen television.