Last updated on 2011-08-01, by video
Watch 3D Movies of Any Kinds on 2011 Summer Vacation with the Help of Leawo 2D to 3D Converter
Summer vacation is just underway, and with the end of Harry Potter series movies, it catches with sorrowful breath. And with the upsurge of some great movies such like Transformers 3: Dark of the Moon, Kongfu Panda 2, this summer vacation never can be said lonely. How do you spend your summer vacation? Go traveling is always an option that can not be omitted, but it does cost money. If you can not afford it, you can have another good choice, which will also enrich your summer life to a large extent. Seeing movies, especially those hot movies you have seen in the past. You may ask like this why I should watch those movies again since I have known the whole movie scenes. Yeah, the point is that, now you have the chance to watch those great movies in 3D stereoscopic image but not 2D plain image. This summer vacation, with any sorts of 3D movies, you can actually let your mind fly with the memorable scenes and indulge in the wonderful plot. How can you convert 2D movies to 3D movies? The brand-new Leawo 2D to 3D Video Converter is your "Mr. Right" or "Ms. Right".
3D videos and 3D movies are more and more adopted in digital life. Common 2D videos can not meet with the requirements of life-like video effect displaying. In order to meet with the demand, Leawo 2D to 3D Converter comes to the fore that helps you to convert 2D videos to 3D videos. You may already have some movies downloaded with 2D images, want to watch them in 3D stereoscopic image? Then turn to Leawo 2D to 3D Converter right now!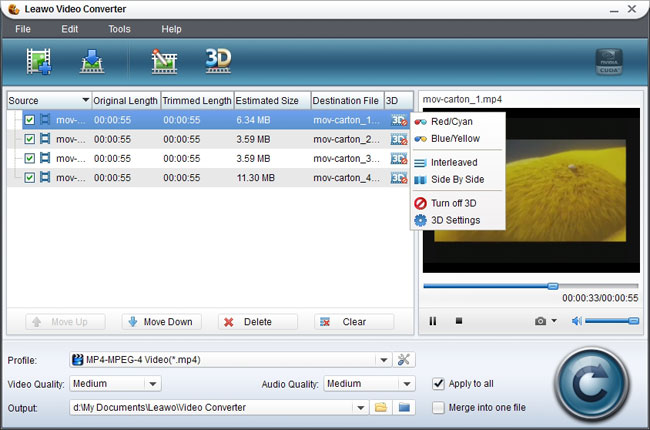 How to convert 2D to 3D videos?
Download, install an run the 2D to 3D software. Load the 2D movies you want to convert to the program. Choose an output format in "Profile".
Click on "3D Settings" icon on the toolbar and go to the setting panel. Various 3D setting modes (Red/Cyan, Blue/Yellow, Interleaved, Side by Side) are provided for preference. 3D depth effect adjustment is allowable as well. Click on "OK" to finish the 3D settings process.
Back to the main interface and click on the big "Convert" button to start 2D to 3D conversion.
You can also add some video editing features to the output under "Edit" button. The output 3D video is compatible with some 3D TVs and other 3D display devices, so you are enabled to enjoy high-quality 3D video freely, and which can really be said as an awesome 3D video visual feast.
I do believe that you can master the 2D to 3D conversion quite well. Now get ready to enjoy 3D movies without limit on the summer vacation.