"We have something you really have to see. And touch," read the invitation, which continues Apple's tradition of keeping its invitation text cryptic.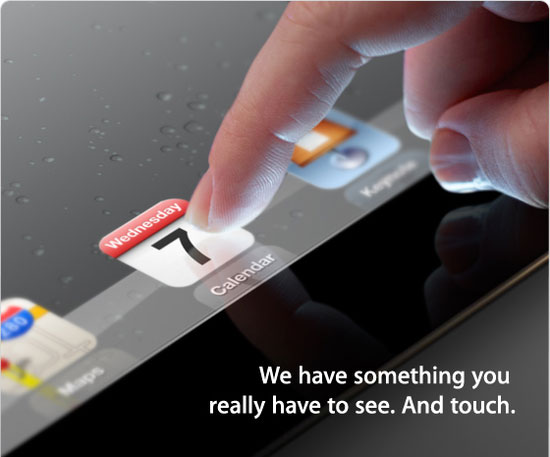 As rumors expected, Apple has sent out invitations to the media for an event next Wednesday, March 7, where it's expected to launch the next iPad. Part of an iPad screen is showed on the invitation background, with a finger poised over the Calendar app, which is set to March 7. If the background is a photograph of the iPad 3 and not digitally manipulated, it hints that the tablet will not sport a physical home button, as have earlier iPads.
Focus on iPad 3 lunch event:
1. iPad 3 Specification true or not
The most likely function of iPad 3 is "Retina" HD screen which doubles iPad 2 screen resolution, up to 2048×1536. The screen upgrade and 4G LTE network connection will lead to a thicker body than iPad 2. As to processor, Apple observers expect iPad 3 will adopt quad-core A6 processor or dual-core A5X processor.
2. Whether Home button is disappear
In the letter of invitation Apple sent, a small part of iPad body shows up. The exciting point is that the image shows no Home button on iPad 3. But it is also probably that Apple only shows the profile of this device so the circular Home button on the glass panel can not be seen.
3. Whether iPad 3 supports Siri
Earlier reports said that iPad 3 will support Siri speech assistant function. But then the story does not appear again, we don't know whether it can become a reality.
4. iPad 2 price-off promotion
The Best Buy has cut $50 off iPad 2 of different versions. Apple has also cut $100 off the first generation iPad last year after the release of iPad 2. So if the new iPad makes a debut, Apple retail stores will take the lead to cut $100 off iPad 2.
5. Other products, Apple TV or iPod
Apple TV set-top box has been sold out in Best Buy and it will not be sold in Walmart, so the market predicts that Apple is going to release a new Apple TV so as to replace the old one. The new product may support 1080p video content.
In addition, iPod players are on sales promotion in Best Buy. Although the outside world does not pay much attention to iPod and Apple has never updated iPod since September 2010, it is possible that a new iPod will be released during iPad 3 lunch event.
iPad 3 prices, on-sale dates and naming are likely to be disclosed March 7, let's wait and see.
How to Convert FLV/F4V to iPad 3?
How to Convert WMV to iPad 3?
How to Convert MKV to iPad 3?