Last updated on 2023-02-21, by video
Google Launched iPhone Google+ Apps
It has been a time since Google released Google+ service. The release of Google+ and its rapid development has been approved bouncy castle for sale by the public and even becomes a threat to Twitter. Google has launched Google+ apps for iPhone users.
Version: 1.0
Release Date: July 19, 2011
File Size: 5.3 MB
Requirement: iPhone 3G, iPhone 3GS, iPhone 4, iOS 3.1 or higher versions
Google+ for iPhone 1.0.1.1809:
●Better support for blocking unwanted messages in Huddle
●Better support for attaching photos to a post
●Various bug fixes and performance improvements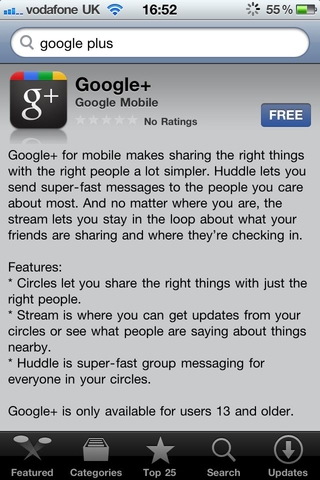 Read More:
Google+ Users Number May Get to 10 Million and be Doubled This Weekend
Google+ Draws Social Network Attentions: In What Ways Does It Affect the Network?
Google Is Going to Consolidate Google Offers, Google+ and Google Wallet
Top 10 iPhone Apps/iPad Apps You May Accidentally Add to the Omissions
How to convert MKV to iPhone 4?
How to convert AVCHD to iPhone 4?
How to play window media video WMV on iPhone?
How to download YouTube video for iphone?