Samsung has surprised everyone at MWC 2013 in Barcelona by unveiling an eight-inch version of its stylus-equipped Galaxy Note tablet- Galaxy Note 8, an eight-inch Android tablet with a stylus to rival Apple's iPad Mini. These unique Samsung features and functions such as the S Pen, multi-window view, and other TouchWiz enhancements to be worthwhile that really set it apart from other tablets.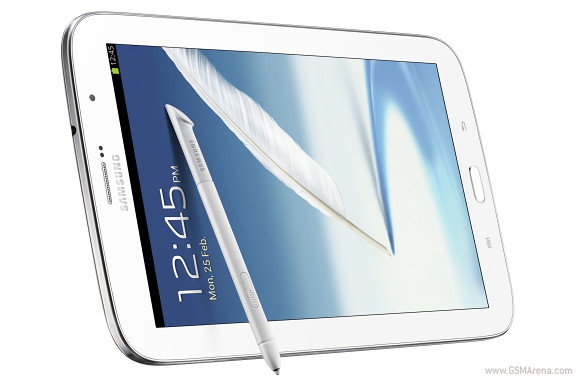 Introduced at Mobile World Congress in Barcelona this weekend, the Galaxy Note 8.0 is an Android 4.1.2 Jelly Bean-based tablet with an 8-inch 1280 x 800 display, delivering a pixel density of 189ppi — slightly higher than the iPad mini's 7.9-inch 163ppi display. Under the hood, it will launch with Android 4.2.1 Jelly Bean onboard and proudly packs Samsung's 1.6GHz quad-core Exynos 4 processor, 2GB of RAM, and comes with 32GB or 64GB of storage. While LTE variants are in the works, the Galaxy Note 8.0 will initially offer cellular connectivity via HSPA+ — supplemented, of course, by Wi-Fi.
Multiscreen support: The Note 8 also improved on the Note 10.1's Multiscreen support, where two apps sit side-by-side, so you can watch a YouTube video while taking notes.
S Pen: The S pen can be Samsung' main spotlight, which provides a natural mode of interaction for users who prefer to write. The Galaxy Note 8.0 Samsung has enhanced the pen software experience. The Air View feature lets you hover the pen over specific Samsung apps so you can see previews of videos, emails or photos without actually launching the apps. The pen also now allows you to control the menu and back buttons on the device.
The Note 8.0 will be out in the second quarter of 2013. Samsung is not detailing the exact pricing and regional release dates. But what we do know for certain is that there'll be two storage configurations 16GB and 32GB for the global unit's official launch. Since Galaxy Note 8.0 will make its slow crawl to market, we will keep you informed later.